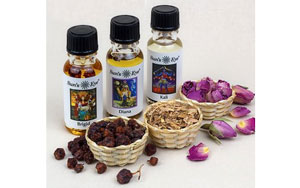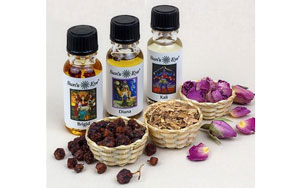 From sprays and mists to incense and essential oils, Sun's Eye offers many different delicious aromas to freshen up any room. Whether your customers have company coming over or they just want to add a nice fragrance to a living area, it is always good to have these products on hand.
Metaphysical Perfumes
Beginning in the 90's when a couple of artists brought their heads together, Sun's Eye is a metaphysical perfumery that uses scent to create atmosphere through intention. Their oils and sprays are more than just beautiful and enticing aromas — the blends are based on time-honored traditions that consider the energetic signature of the elements used to create the formula, such as herbs, flowers, or stones.
Best-Sellers and Popular Products
Sun's Eye offers a myriad of different scents for their mists, oils, and incense. Ancient Elements is the brand's most recently introduced incense line, and has 12 different aromas such as Amber, Attraction, Dragon's Blood, Frankincense, Jasmine, Sandalwood, and more. They even offer an incense display set, which shows all of the Ancient Elements scents along with a wooden display box and free samples.
The company's mists and sprays are some of their best-sellers since they are great to freshen up any space. Available in 10 different scents including French Lavender, Cedarwood, White Sage, and more, they are made with a traditional blend of essential oils in filtered water and polysorbate-20, an emulsifier derived from coconut. All of the formulas are based on traditional and time-honored associations that are mindfully crafted with intention in mind.
Another hot product Sun's Eye offers are oils, which are petroleum-free, paraben-free, DBP and DEHP-free, as well as vegan — meaning no animal products or testing are used during the creation. They are highly concentrated blends of essential and fragrance oils, which are synthesized from a wide variety of ingredients to keep the formulas safe for consumers to use on their body.
A Family Business Through and Through
On top of all of these popular items, Sun's Eye also sells essential oil lockets and bracelets, aroma lamps, diffusers, greeting cards, music, and tons of gorgeous essential oil displays for retailers and boutiques. Sun's Eye is more than a business — it is a family, born of the passion and talent of Madeline and her husband, Robert. Over the years, Ashley has worked alongside Madeline and Robert and poured her heart and soul into helping make the company what it is. Today, Ashley and her husband Paul, the artisan behind the scenes, keep the family aspect of Sun's Eye going.
To view all of what Sun's Eye has to offer, visit their website at www.sunseye.com.
Sun's Eye
P.O. Box 39
Geneva, FL 32732
Tel.: 800-786-7393