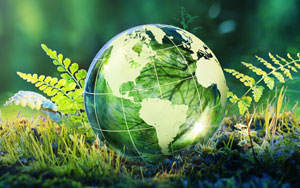 Retail is undergoing an unprecedented transition. Ecommerce has been on the rise, and then COVID-19 happened, rocking the industry to its core as stores around the world closed and online sales skyrocketed. Amid all of these changes, sustainability has moved up the agenda for retailers and shoppers alike.
Eco-Friendly Desires Increase Despite Pandemic
Things did not look good for sustainability in marketing at the outset of the coronavirus pandemic. People were panic-buying and pantry-loading en masse, snapping up whatever products were left on the shelf. In the frenzy, loyalty started to slip, while a volatile economy put strains on consumers' wallets that may have impacted their willingness to pay a premium for environmentally conscious brands. Yet, research indicates that the appetite for sustainability-marketed products — a once niche sector that achieved greater mainstream recognition through the mid-to-late-2010s — has remained resilient despite the trials of COVID-19. Alan Jope, CEO of Unilever, emphasized that "any company that wants to stay relevant in the future should think about sustainable behavior."
"I think climate change is huge. It is here to stay and at the forefront of consumers' minds more so than ever before," Tim Parkin, Global Marketing Expert, said. "With climate change and global warming, the changes we are seeing have accelerated visibility, awareness, necessity, and the urgency of sustainability. Brands who can realize that and align with it can be compensated handsomely. We all have a part — this is our earth — so we have to help the world to survive."
The Challenges with Sustainability
Despite the growing desire, retailers still face challenges when selling sustainable products or utilizing eco-friendly packaging. The biggest problem is selling to consumers. According to Parkin, modern times have made the idea of sustainable merchandise easier, but in the past it was hard to justify making a hefty purchase just for that label. The key to getting around this bump in the road is to market to shoppers as to why sustainability is important.
"The rule of marketing is that consumers act based on emotion and then they justify those actions with logic. Give shoppers an experience that allows them to feel good and like they belong to something with purchasing your sustainable products. It is hard to justify paying a higher price, so retailers need an emotional draw to get over that hurdle. Encourage that in your advertising, so the mission is that consumers are a part of something bigger and are along with you on that journey," Parkin said.
Sustainable Marketing Outperforming Conventional Marketing
According to a report conducted between IRI and the NYU Stern Center for Sustainable Business, products marketed as "sustainable" have outperformed conventionally marketed merchandise in ecommerce. Moreover, in 75 percent of the categories examined, sustainability-marketed products performed better online than in store. In 2020, the ecommerce CPG share for sustainability-marketed products grew 65 percent versus 2019, seven points higher than conventionally marketed merchandise.
The Desire Will Continue to Grow
"We see a huge trend going on with sustainable production, local farming, and the local economy," Haitham Al-Beik, Co-Founder and CEO of Wings, said. "It started in California quite early, and since then it has taken quite a big step forward in consumer demand. We are predicting that around 2024 or 2025, there will be a peak in the market where if you are not sustainable, customers will not be interested."