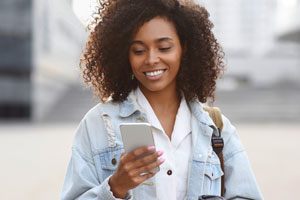 by Shannon Flynn
More retailers are utilizing SMS messaging to engage their customers and update them on everything from new arrivals to order statuses. Text messages are one of the most direct ways of contacting a target audience.
Recent research shows about 75 percent of consumers signed up for text messages from brands in the past twelve months. With more shoppers using their smartphones frequently, SMS marketing is one of the best ways to get in front of the competition. SMS messaging is fairly easy to grasp, and be sure to avoid annoying subscribers. Follow these best practices for success:
1. Get an Opt-In
Do not try to trick the audience into signing up for messages. Make sure the opt-in is clear and users know the type of messages they will receive. SMS can be spammy just like any other type of marketing, so avoid even the appearance of spamming people to keep your reputation positive. Ideally, those who opt in will read the text messages and engage with sales, new arrivals, and special offers.
2. Embrace Rich Messaging
Although text messages sent to a cellular device are still popular, rich messaging is gaining momentum. Rich messaging does not necessarily need a cellular connection. Additional features of the format include the ability to chat with groups, track chats, and send read receipts. This type of messaging boosts consumer engagement through chats and loyalty programs. The systems can even incorporate ordering and payment into the messaging system.
3. Space Messages Out
Text messaging is immediate, which means users get your marketing in an instant. Unfortunately, the messages can also interrupt another conversation they are having, go off during a meeting, or otherwise distract the user. The last thing small businesses want is to send so many messages that the potential customers stop communication and mark the brand down as too spammy to deal with, so be sure to space your messages out. If a business owner runs a little retail shop, how often does the store get new products? Perhaps they can highlight just the most interesting ones and send a single message with an image and note about it all at one time.
4. Remember Disclaimers
There are always consumers who want to take advantage of small businesses. A little shop may not have the legal counsel of a big corporation. It is easy to leave out important disclaimers about how a promotion works or what happens if inventory runs out, so make sure any special offers have a small disclaimer included to cover such scenarios.
5. Text at the Right Time
Pay attention to the demographics of the audience. If most are located in a single state, then issues such as time zones do not matter. On the other hand, if people subscribe to an online store from across the globe, making sure messages go out at appropriate times becomes vital. As a rule of thumb, send messages after 9am and before 9pm. Avoid busy times such as commuting and dinner. For those who own brick-and-mortar stores, consider peak customer visits and try to send just before those windows to encourage a visit. Some researchers believe businesses should segment their lists and then send between 9am and noon or 5pm and 9pm on weekdays and between 10am and noon on weekends.
6. Watch the Language
Messages should have a conversational tone and match the language users most frequently engage in. Are there any industry terms clients might be familiar with? Stick with headlines to grab attention, such as action verbs and descriptive words, and try to make imagery as concrete as possible. For example, "New Arrivals" is not nearly as catchy a headline as "Grab our White Winter Gear Before It Flies Off Shelves." Play around with the wording until it is concise and grabs attention. People use natural language patterns. Discover some of these by seeking out the search terms bringing people to the website in the first place. Talk to customers to get a feel for the language they use.
It is okay to think outside the box. SMS messaging is still a young marketing method, and the only way to figure out what works best for a brand is to try different things. Keep the ones with a good response and lose the ones with a poor response.