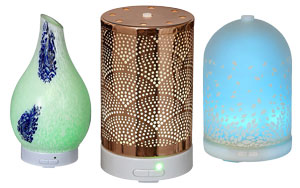 Stylish, practical, and therapeutic, Aromar oil diffusers are perfect for enveloping rooms in pleasant fragrances and creating a tranquil atmosphere. They can be used as a way to relax after a long day, as a way to focus while working from home, or even just to freshen up a room for guests. With so many scents to choose from, Aromar has an oil diffuser for everyone.
Oil Diffusers Like No Other
These products disperse fragrance oils, or essential oils, throughout the air, casting any room in a healing scent that can help restore the body and mind after a stressful day. When filled with an essential oil, diffusers impart physical and psychological benefits to improve users' mood, reduce stress, improve sleep, soothe headaches and muscle pain, and so much more. Most consumers find aromatherapy relaxing and beneficial to their wellbeing, which is why Aromar has created a unique range of electric diffusers tailored to every design and style preference. They even have ultrasonic diffusers with colorful LED lighting to help your customers get the most out of their aromatherapy experience. Their ultrasonic diffuser varieties include:
Metallic diffusers
Glass diffusers
Spa diffusers
3D diffusers
Ceramic diffusers
Wooden diffusers
Top-Rated Fragrance Products
Aromar also offers a variety of other merchandise, including essential and fragrance oils, oil burners, air fresheners, incense sticks and holders, hand sanitizer, sachets, and body and room mists. No matter what your customers are looking for to make a room smell amazing, Aromar has what they need.
Aromar is a brand under the Mar Company Group, a manufacturer and distributor of aromatic products. Mar Company Group owns multiple brands, including NeverWet, Rocket Scents, Oopsie Poopsie, and Grandeur. Marcelo Moreno, owner of the company, has been in the fragrance business for over 30 years and has a professional perfumist in house to be able to create high quality formulas.
Aromar
6750 NW 79 Ave., Miami, FL 33166
Tel.: 786-477-4174
www.aromar.com