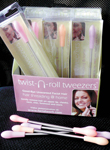 Grace Harvest & Associates' SwirliDo Hair Ties are good for all hair types. The hair ties hold on tightly and come off smoothly from the user's hair. With the typical hair tie, if you do not tie it tightly, it comes off during use. SwirliDo Hair Ties grab the hair itself. They will not leave pony lines, and will not cause a headache after use. They are great for workouts, sports and similar activities. The wholesale price for SwirliDo Hair Ties is $2.50 for an eight piece pack, with suggested retail of $6.50 to $7.50 per unit. The minimum order is two dozen, and comes in four colors, including Neutral, Jelly, Hawaii and Caribbean.
The company has another exciting new product called the Lindo Twist-n-Roll Tweezer, that gently removes hairs in one twist motion. It is a gentle and natural alternative for removing hair, and can be used on the upper lip, cheeks, forehead, chin, neck and more.
The benefits of the tweezer are:
1) Gently removes hair at the root.
2) Works on any hair type, including peach fuzz and coarse hair.
3) Will not cause stubble or thicker new hair growth.
4) Can be used without a mirror.
The wholesale price on the tweezer is $6 per unit, and the minimum order is 15 units. The suggested retail price ranges from $12.99 to $14.99 per unit.
For more information:
Grace Harvest & Assoc.
4043 92nd Ave SE
Mercer Island, WA 98040
Tel.: 206-973-2363
Email: sales@facialwork.com
Website: www.facialwork.com