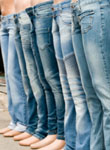 As the retail experience undergoes constant upgrades, independent retailers must be strategic to be successful. IBISWorld recently released a report finding that companies in the fashion industry must jump on board with key trends within the sector. The research boils down to several key points that can help all independent retailers bolster business.
Get personal.
Sites such as ShoeMint.com and JustFab.com utilize style quizzes and user input modules to engage customers. When a shopper feels as though he or she has been tended to as an individual, it is more likely that they will make a purchase. The fact that these modules tailor search results and provide customers with only the products they are likely to buy is an added bonus.
Get mobile.
IBISWorld says that from 2007 to 2012, mobile web use "skyrocketed an average of 57.6 percent per year." This trend is here to stay, shaping the marketplace such that a traditional website is no longer enough to satisfy customers. Consider establishing a mobile specific website and a downloadable smartphone application to keep in constant contact with shoppers. The easier it is for them to check for a new product, the more likely it is that new product will sell.
Get social.
While the impact of Facebook and Twitter has been the topic of conversation for years, don't underestimate the power of conversation. Use viral advertising to showcase products and services. Starting the conversation on social media helps small businesses become social destinations.
Get flashy.
Flash sales, which make deep discounts available for limited periods of time, are one of the top trends in online retail and marketing. The added pressure of a time constraint can nudge customers who are on the fence about an item so that they are more inclined to purchase.
Get friendly with Generation Y.
"Aspirational shoppers, defined as Generation Y consumers that make purchases priced at or below $300, are spending their cash on designer labels," says IBISWorld. "To capture this growing demographic, also dubbed Echo Boomers, companies like Coach Inc. have launched products especially designed for younger shoppers."
Get conscious.
Green, organic products, locally sourced goods and all things made in the USA are highly desirable in fashion. Organic clothing is growing in popularity, as are domestic brands. American premium denim is one of the fastest growing segments of fashion retail, and is expected to remain as such through 2017. Bearing this in mind, small businesses can benefit from carrying products that cater to cause conscious markets.