Inde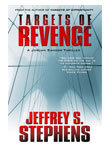 pendent retailers are always looking for that great add-on item and, with the summer season just about to shine, what better than a good read. Everyone loves to be immersed in a thriller, and Targets of Revenge, Jeffrey Stephens' third novel in a series, provides the swift pace, powerful punch and global intrigue to captivate readers.
CIA agent Jordan Sandor tracks criminal mastermind and cold-blooded killer Adina across the globe, beginning in the jungles of Venezuela and ending in a major U.S. city. Using both his intelligence skills and deadly weapon expertise, Sandor unveils, and sets out to halt, a cataclysmic assault aimed to topple America.
Retail customers are sure to snap up this book, as reviews continue to pour in praising the writing prowess of Stephens as well as his riveting, timely plot line. Publishers Weekly says: "Targets of Revenge gives us a hero who is easy to root for."
To view the one-minute video about the book, click here. To learn more, visit www.jeffreystephens.com.