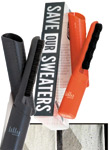 The Lilly Brush is specially designed with nylon bristles to be delicate, yet effective, when removing lint, pills and pet hair from natural fibers such as wool, cashmere and cotton. Other products that remove pills from clothing are too aggressive, and can make a hole in fragile fabrics, says Henry Strazza, director of Operations at Lilly Brush Company.
To use the patent pending product, one places a garment on a firm surface and, applying moderate pressure, sweeps the Lilly Brush across it in any direction. For best results, the company recommends that users occasionally pinch and discard the collected pills from the surface of the brush throughout the process. Lilly Brush is available in both red and graphite grey, and wholesales for $5.95, with volume discounts available, retail is $12.95. The minimum order is 12 brushes, and shipping is free on initial orders. A point-of-purchase display is included.
Elsie Hamilton, company founder and president, developed the brush after she experienced some life changing events, one of which was adopting a rescue dog from a Denver, CO, animal shelter, Strazza explains. Hamilton, an artist, always had a vision of designing a product, and adopting Lilly inspired her to invent a new kind of brush to pick up dog hair and more from sweaters and other surfaces. Lilly Brush, designed to last for years, can be used on upholstery as well as on clothing, and comes in a carrying case.
Where to buy:
Lilly Brush Co.
6750 South Lima Street, #200
Englewood, CO 80112
Tel.: 855-LILLYBRUSH
Visit Lilly Brush Co.