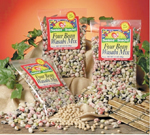 MISTER SNACKS INC. specializes in healthy, alternative snacks that are not only good for you, but also taste good. Among the many dozens of retail programs it offers under the Sunbird brand is the 24 prong, Big Bag rack. This rack is designed to hold six snack packs per prong, for a total of 144 snack packages. The retailer can add 12 cases of 12 packs each to refill the rack, and with a 12 case order, the rack costs just an additional $15.
Mister Snacks offers between 70 and 75 varieties of snacks in this Big Bag program. The rack can be tailored specifically to each retailer's market, clientele and other needs. The company and/or its distributor will always help retailers assemble a top selling mix of items. The bags' contents vary between four and six ounces each. Among the most popular varieties are gummies, nuts, trail mixes, hot and spicy, yogurt coated, dried fruits and some chocolate coated varieties.
The wholesale cost from a Mister Snacks distributor is under $1.40 a package, and suggested retail is about $2.29 a package. Under the Sunbird brand, the company also has a larger package that is well suited to supermarket sales. The packages in this program average 12 ounces each. The average wholesale cost is $2, with suggested retail of $3.29 a package. A rack that holds 14 cases is available, as are shelf organizers. All Mister Snacks products are designed as healthy alternative snacks.
For more information:
Mister Snacks Inc.
500 Creekside Drive
Amherst, NY 14228
Toll Free: 800-333-6393
Tel.: 716-691-1500
Website: www.mistersnacks.com