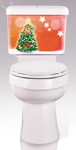 WOW TOILET LLC has developed, WOW Toilet Tank, a clear toilet tank that allows for insertion of specially sized images and posters. It is also available to commercial companies, where it can include advertisements and marketing messages. The WOW Toilet Tank consists of an inner tank for holding the water to flush, a tank lid, and a clear shield that covers the front and sides of the tank. It comes in kit form, and the shield has a small slot around the top and bottom that allows for insertion of the images or photos. They then span the full front of the tank.
Inserts can match wallpaper or carpet, celebrate a holiday, season or even a birthday, a sports team or other allegiance. Images can be changed easily and often. The WOW kit includes a water tank that easily replaces an existing one, and comes with all the easy to install plumbing parts and complete instructions. This tank is designed with water saving dual flush valves, and also has dual key locks on the lid for safety. It comes with one poster insert of the customer's choice. Others are offered for $4.95 retail.
The minimum order is 25 units. The wholesale cost is 35 percent off the suggested retail price, which is $89.95. On larger orders, wholesale cost is significantly reduced.
For more information:
WOW Toilet LLC
13452 La Pat Place
Westminster, CA 92683
Tel.: 714-791-8124
Fax: 714-898-7019
Email: info@wowtoilet.com
Website: www.wowtoilet.com