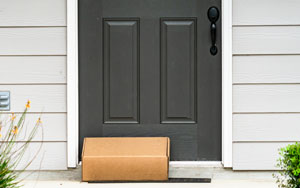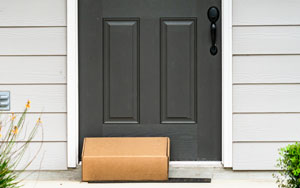 by Jeanae DuBois
During the last six months of 2020, retailers were forced to meet customers where they were at – online at home. Retail spending increased more than 36 percent (a leap from 13.8 percent in 2019) as shoppers moved online. Forecasters say these trends will slow down, but not go away, as the market transitions beyond the pandemic and customers return to brick-and-mortar shopping. While the trend might slow, the desire for the convenience of home delivery will remain and some indie retailers are struggling to get it right in the "last-mile."
Managing that critical last mile in the purchasing process is essential to customer satisfaction and reputation, but the majority of small businesses do not have their own drivers and must rely on third-party delivery services. It is at this last stage that problems are rife — more than a third of Americans report having packages stolen or damaged, and an estimated 1.7 million packages are stolen or lost daily to the tune of $25 million in goods and services. If a delivery is less than satisfactory, the customer may leave bad reviews for the retailer, which especially for independent retailers can be bad for the business long-term.
Delivery Satisfaction
Consumers enjoy the convenience of receiving products at their home, but do not like paying additional delivery fees, having to wait at home to sign for a package, or worrying about products being stolen or damaged by the elements while waiting on the porch. Retailers who manage sales from "shelf to doorstep" through custom technology options will have the advantage in retaining customers and increasing revenue.
Maximizing the home delivery experience through safe, contactless means can be accomplished through technology that combines hardware and software. New solutions on the market can help retailers recoup costs, provide seamless service, and increase the likelihood of returning customers. Outdoor cameras and video doorbells such as Ring are popular with consumers, but can only alert them after a theft has taken place. Rarely do these technologies lead to stolen goods being recovered.
Package Security
To secure unattended packages and lessen the chances of theft, a variety of lock boxes are now on the market available to consumers. Products like PorchPod promise increased safety with sturdy lockable containers, and some like DynoSafe are also temperature controlled to protect against external environmental conditions. The ability for a delivery to be placed into a safe location, only accessible by the delivery person and consumer via mobile app, guarantees that purchases will be secure and safe.
Solutions that provide a hardware and software approach to delivery safety and security benefit both the consumer and retailer. Independent businesses need to be sure that their packaging and delivery drivers work with these new solutions, or take a page from Walmart's playbook and provide consumers with a device to secure their home deliveries. Once a consumer has a box that works with a specific retailer and their home deliveries are always convenient, safe and fresh, they are more likely to order again. As brands look for ways to compete against the big box omnichannel stores, investing in these smart technologies may help ensure reputation, customer loyalty, and financial gains.
Jeanae DuBois is the Chief Marketing Officer at Bitwise Industries. Jeanae DuBois is an accomplished marketing and branding leader with 20+ years in the industry. She joined Shift3 Technologies, a Bitwise Industries company, in September 2019. Now as CMO, she oversees global marketing strategy and a 30+ member integrated marketing team that executes on inbound and outbound marketing, campaign execution, branding, client development, public relations, corporate and community events and internal sales enablement.