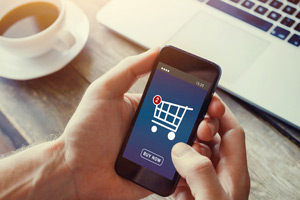 by Jordan Cooper
The retail industry is redefining the shopping experience as consumer expectations and habits are changing. For many retailers, this may come in the form of improving fulfillment centers to provide great convenience for consumers, investing in innovative technologies that focus on personalization, or changing the in-store experience that continues drawing customers back to the store.
While all these business investments are important, the main takeaway of the last two years has been the importance of incorporating an ecommerce platform in order to create a more meaningful shopping experience for consumers. Americans spent $1.7 trillion online over the past two years, indicating the likelihood of continued growth in digital shopping. According to recent data from Xero, accountants and bookkeepers believe ecommerce platforms generally outperform their purely brick-and-mortar counterparts – with 70 percent of respondents stating that online platforms have a higher net profit margin.
The report surveyed accountants and bookkeepers in the U.S. with a clientele of more than 1,500 small businesses. Here are several data points indicating the importance of integrating an ecommerce model into your small business retail strategy to be in an optimal position for financial success.
Better Profit Margins and Cash Flow Online
The survey highlighted that, generally, ecommerce platforms perform better financially. The costs are lower, their margins are higher, and the cash flow is stronger.
Having a higher net profit margin (with 25% of respondents stating it is much higher) results in online businesses earning more money per sale, partially due to less operating expenses eating into revenue.

From an operational standpoint, online retail stores are generally less expensive to run, with eight-in-ten respondents stating ecommerce has a lower operational expenditure (opex) versus purely brick-and-mortar. The absence of rent and lower staffing costs contributes to the financial sustainability of online platforms.

Fifty-one percent of respondents note that online businesses have better cash flow, while only 27 percent say brick-and-mortar is better off. A stronger cash flow allows online businesses to invest in additional supplies or upgraded technologies. Online businesses typically bill clients electronically through instant payments, which can

cut payment wait times by up to half

.
Starting Up an Online Business
Online businesses are generally faster and cheaper to set up than brick-and-mortar stores and owners typically break even on their investment much sooner.
Eight-in-ten respondents state that it is cheaper to start an online business than a brick-and-mortar store, likely due to the fact they do not have to enter lengthy and expensive lease agreements. Having an online platform also gives brands the opportunity to try a soft launch, where they carry less stock and determine how to adjust their strategy based on consumer demand. Physical stores typically do not have this flexibility, as they are under greater pressure to meet higher operating costs.

Breaking even is a huge milestone for any business, and eight-in-ten experts state online retailers reach this achievement quicker than their brick-and-mortar counterparts. Lower startup costs and lower weekly operating expenses play a huge role in allowing online businesses to use their revenue to restore startup costs quicker.
Less Financial Risk = Less Stress
Starting and running a business can be very demanding on owners, which can bleed into their well-being and their personal lives. Experts believe online platforms are under less pressure and overall feel less stressed, likely due to lower risk of failure and greater overall resiliency.
Failure risks are lower as an ecommerce platform, with 69 percent of respondents stating an online business is less likely to fail. Major social disruptions like the pandemic demonstrated online platforms are resilient to major changes in consumer shopping habits and preferences.

Sixty-eight percent of respondents believe the failure of an online business will cause fewer personal financial losses since they tend to spend less during the startup period and break even faster, which ultimately leads to fewer debts.
Potential Challenges for Ecommerce Platforms
The report explored metrics related to business performance and personal comfort, but that does not alleviate all pain points for online retailers. An online presence requires strategic thinking and newfound knowledge of what shapes consumer habits. Some challenges noted by respondents included:
Forty-one percent state that figuring out the correct digital marketing strategy was a challenge of running an online store. Having relevant industry experience can help to alleviate expensive digital marketing costs.

Thirty-seven percent state additional time spent combing through social media and online reviews was a challenge.

Thirty-three percent state they had to invest additional time to understand new technologies.
The report revealed that ecommerce platforms are creating a new and lower-risk pathway to business ownership. As retailers look toward the future and analyze their business strategies, they should not lose sight of the financial benefits that coincide with having at least a partial online presence. With consumer expectations constantly changing, it has never been more important to adjust with the times to create an encompassing approach that can serve different consumer wants and needs.
Jordan Cooper is the Director of Verticals at Xero.