By Robert Harrow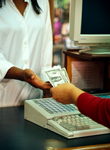 While the idea of your business accepting credit and debit card payments is nice, it's important to fully understand the cost of such a venture. The main drivers behind the cost of various card-compatible point of sale (POS) terminals are functionality and scale. Card readers that carry out additional functions – such as Near Field Communications (NFC) or Europay, MasterCard, and Visa (EMV) support – will unavoidably be more expensive. Scale also plays an important, and somewhat obvious function. The more readers you need, the more expensive an upgrade can become. Because scale is something that will vary greatly from business to business, and is often a simple multiplicative factor on the base cost, this article will break down the various options and costs tied to different POS terminals.
Keep in mind: If you are already working with some sort of merchant service provider, the cost of a simple upgrade may be mitigated or completely removed by the provider. Before committing to any upgrade, contact your provider and see if they can work out an option for you.
EMV-Ready POS Terminals
Despite the fact that we are now long past the fraud liability shift deadline, surveys and research have shown that many merchants will only now be upgrading their POS terminals to accept chip cards. According to a 2015 Capital One Spark Business survey, 7% of business owners who have not upgraded their terminals as of October 1 2015, have expressed plans to do so this upcoming year.
If you're already working with a Merchant Services Provider, they may be willing to provide you with the necessary EMV POS terminals, free of charge, or at some discounted rate. If, on the other hand, you purchase these readers on your own, our research shows that the average cost of an EMV reader is around $556 per device. The price data examined included readers capable of capturing a signature – which is required with the type of EMV technology present in the United States.
The cost of your EMV POS terminal will vary depending on additional functionality. If you want your business accepting contactless payments (NFC), expect to pay more.
NFC POS Terminals
Many retail businesses wishing to reduce checkout times are upgrading their payment terminals to support NFC payments. NFC allows your customers to simply hold up or tap their cards or smartphone to a device, in order to carry out a payment. There is no need to swipe through a device, insert any chips, or hand over a card to a teller.
Large businesses such as Starbucks have begun implementing NFC and mobile payments (mobile payments and NFC are interchangeable), since they see a high volume of customers daily, and would like to process as many as possible in the shortest amount of time. Earlier this year, in an earnings call, Starbucks CEO Howard Shultz revealed that 20% of all in-store transactions are carried out via mobile payments.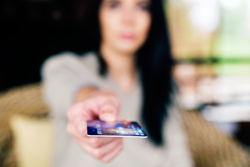 Just as with EMV, Merchant Services Providers you are working with may be willing to upgrade your devices to support NFC, should you request it. If you were looking to purchase these devices directly out of pocket, it could cost businesses on average around $262 per reader. More affordable and price-sensitive options are becoming more popular for both EMV and NFC POS terminals. Companies such as Square are offering low-cost solutions to many small/mid-sized business owners. There are some concerns and considerations to be made with "budget" solutions, such as Square. They may prove to be more costly in the end, due to higher long-term costs.
A Note on Square
When it comes to payment solutions, Square has been on the lips of many business owners – recently it has been making headlines with its impending initial public offering. Square is a payment processor and POS solution that has been growing in popularity over the last few years, partly due to its low upfront costs and ease of use. Square's technology relies on the use of mobile devices (iPads, iPhones, and select Android products) to carry out transactions. If you already have a compatible device, all you need to do is buy a magnetic stripe reader attachment (these range from $49 to $99), and you can begin processing card payments out of the box.
Square takes a 2.75% cut of every swiped transaction, and 3.5% + $0.15 per manually entered transaction (card-not-present). This is more than the average interchange fee most vendors receive through more traditional merchant service providers. The fixed pricing model may work for some, but business owners who want more control over their costs should consider going down a more traditional payment processing route. Other merchant service providers will be able to work with you on a pricing structure that may better suit your business.