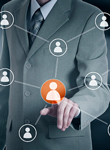 Mom and pop shops, specialty retailers and boutiques have served as cornerstones of American communities for over a century. Shoppers like supporting businesses with people they know and trust. Product recommendations hold a lot more weight when they come from a friend. However, independent retailers aren't the only vendors who fit into this category. Multi-level marketing (MLM) companies such as Avon®, Mary Kay®, LuLa Roe®, and Rodan + Fields® rely on this same principle. When a friend, neighbor, or family member asks you directly to try their products, it's hard to say no.
The lines between independent retailers and MLM consultants are pretty blurred from the outside. At surface level both function as independently run small businesses. Many MLM consultants host pop-up sales, participate in local market events, and sometimes even partner directly with local retailers. LuLaRoe® calls their consultants "independent retailers."
To what extent do MLMs impact true independent retailers? The truth is, many more people join MLMs than start their own small businesses. On average, 5,500 new people join an MLM every day in the U.S. Overall, small business start-up rates have steadily declined since the '70s. MLMs are appealing to people who are interested in starting their own business, and seem to come with a wide support network. Pioneering your own business sounds scary and intimidating. Joining a seemingly already successful group of consultants feels easier and less risky.
Unlike independent retailers, MLM consultants do not select their own products, determine pricing or business practices. According to Small Business Administration statistics from 2016, 78 percent of small business startups survive their first year. 99 percent of MLM consultants lose money. While MLM consultants invest time and money into buying inventory and marketing on social media, they very rarely see the same returns that a small business can.
Like anything else, if it seems too good to be true, it probably is. Many of these multi-level marketing companies trumpet easy profit for their consultants. Working from home and primarily through social media networking seems like a low-risk, high-reward scenario for many people, especially stay at home moms and other groups who require some flexibility. But as all of our readers know, starting a successful retail business from scratch has no shortcuts.