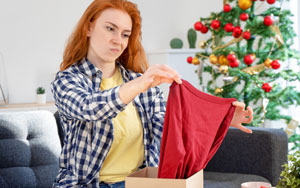 U.S. online purchases over the 2020 holidays grew 32.2 percent from 2019, totaling a record $188.2 billion, according to CNBC. This surge in ecommerce activity is translating into record returns volume, once again leaving shipping carriers strained as they get overloaded with packages.
Leaving a Massive Environmental Footprint
While the idea of free online returns lured consumers into buying from certain brands who offered the promotion during the holidays, there are quite a few repercussions that come with returning goods. In 2019, the returns from online shopping created 5 billion tons of landfill waste and produced as much carbon dioxide as from 3 million cars driving for one year. Millions of items are dumped in landfills because it is often easier and more cost effective for companies to dump returns rather than to process, repair, and restock.
According to B-Stock, the world's largest B2B marketplace for customer returns and overstock merchandise, it can cost twice as much to process an online return back on the shelf as it does to sell it the first time. "There are so many operational decisions that have to be made," Marcus Shen, COO of B-Stock, said. "It requires manual touches, and many retailers are set up to sell the first time, not the second time. The second time is always a more complicated process."
Finding a Fix for How Returns are Handled
Seeing the impact of online returns does not mean retailers shouldn't offer the option. Consumers need to be able to return items, especially during the pandemic, since they cannot touch, see, or smell merchandise in person. Utilizing free online returns as a marketing tactic is a great way to make sales and earn customer loyalty, but rather than simply sending any returned goods to the dump, there are other ways to go about handling them.
Some larger retailers have figured out ways to combat the cost of returns. Best Buy, for example, uses a number of methods such as including selling open box items on its website and hosting a sales event for open box merchandise right after Christmas. Taking back a return that has been opened does not mean it needs to go to the landfill. Instead, consider inspecting the product further to see if it is at all damaged to determine if it can be sold to another customer as 'used.'
If the product is damaged and cannot be resold as 'used,' retailers should consider selling returned goods to liquidation companies. B-Stock is one of those channels, building online marketplaces for brands to sell returned, liquidated, or excess merchandise in bulk quantities to certified resellers. Direct Liquidation is another company for retailers to sell their customers returns.
Options for Online-Only Brands
Happy Returns also offers technologies and logistics at nearly 300 U.S. locations to allow online purchases to be returned in person when the retailer does not have a physical storefront. Brand start-ups such as Everlane, Untuckit, and Rothy's work with Happy Returns, which has put its so-called return bars in malls, on college campuses and even stores like Sur La Table and Paper Source. Happy Returns packages it up for the shopper, sorts the returns by retailer, then ships in bulk to return hubs less expensively than the postal service offers.
There are much better ways to manage returns rather than dumping them in landfills. While indie brands do not necessarily need to worry about large quantities of returns, these are some best practices to not only help the environment, but also to keep your store from losing money with unwanted goods.