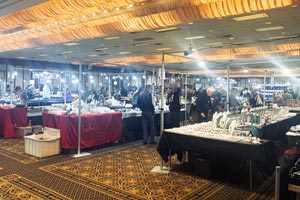 For over 45 years, the entire team at Gem & Lapidary Wholesalers Inc. has been providing B2B buyers with expertise of every possible kind. From their small business roots, the company has grown to span a series of 15 annual shows crisscrossing the entire United States and offering a huge range of quality gems and lapidary items for savvy buyers.
World Class Trade Show Service
The next Gem & Lapidary event will be taking place July 28-31, 2022 at the Watauga Festival Center in Franklin, North Carolina. Buyers attending this show will be able to experience high quality products from a wide variety of vendors, as well as world class service and the opportunity to make long-lasting business connections. From smaller, more intimate regional shows to the larger and more expansive events hosting over 700 exhibitors and upwards of 65,000 attending buyers, Gem and Lap still takes the time to ensure every attendee that all of their shows provide the same great experience.
The Hottest Fashion Jewelry Finds
Retailers attending the next July event will find styles and products in the lapidary industry from around the world, all in one location, and offered with professionalism and courtesy. From unique and delicate beads and fashion jewelry to diamonds and fine jewelry dealers, the long-standing and loyal jewelry suppliers exhibiting at the Gem & Lap shows are true professionals. Interested buyers can download the registration form on the website at www.glwshows.com as well as check out the full show schedule for 2022.
Gem & Lapidary Wholesalers Inc.
July 28-31, 2022
10am – 6pm Daily, and 10am – 3pm on Sunday
Watauga Festival Center
6295 Sylva Rd., Franklin, NC