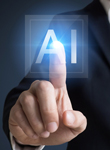 By Mikaela Kornowski
Although artificial intelligence (AI) sounds a little out of this world, this futuristic technology is already helping customers and retailers in the here and now, with expansion predicted for the years ahead. According to Transparency Market Research, the AI industry was valued at $126 billion in 2015, and is predicted to grow to $3 trillion by 2024.
Using machine-learning, AI continuously gathers new data on the retail industry, businesses, and consumers, and creates automated decisions based on that information. In traditional data-harvesting, humans ultimately analyze data results and make conclusions. AI, on-the-other-hand, can form its own educated choices.
A Personally-Tailored Experience
You probably know customized experiences for consumers are becoming more and more important for retail success, both online and in-store. IBM's Watson, a specimen of AI technology known for outsmarting Jeopardy's top human contestants on the show, is now helping The North Face customers have a personalized shopping journey.
Watson drives the retailer's online shopping tool, which helps customers select coats that fit their needs. The tool asks questions regarding the location and time of year shoppers plan on wearing the jacket. North Face reports shoppers who use the tool are more likely to complete their purchase and the retailer plans to expand AI in the future.
Gap is also going custom. Have you ever wondered if the blouse you see on a model online will look as good on you? Gap is testing an app that allows customers to digitally "try on" clothes. After shoppers enter their height and weight, the technology shows the outfit on the customers' personally designed models.
AI technology gives customers more confidence that their buy is the best match for them and will also help reduce returns for retailers. You can expect this type of custom experience to only expand through AI.
Improving the Online Search
Technology designed by Webyclip allows retailers and consumers to snap photos with their smartphones and search a database filled with billions of images to gather relevant data and discover similar products. With help from AI, users no longer have to type and re-type descriptions into a search bar, hoping to find the clothing item or accessory they're looking for.
Veloxity reports 75 percent of shoppers make purchasing decisions with help from their phones. Since the majority of shoppers use their phones at some point during the buying journey, visual search ability through the convenience of a mobile device will help shoppers compare product information and pricing, and will keep retailers in-the-know about their competition.
Always Ready Customer Service
It's not likely that AI technology will completely eliminate the human component of customer service, but it can certainly help retailers save on manpower. Macy's has invested in an app that blends Watson's technology with GPS-based software, allowing customers to receive timely responses to in-store customer service questions, such as where a particular brand or type of merchandise is located in the store.
Taking the Guessing Game Out of Inventory
For retailers, predicting the amount of merchandise to keep in-stock isn't easy. Too much product can mean a loss for your business, while not enough product can cause dissatisfied customers and missed sales opportunities. Unpredictable factors like having a milder-than-normal winter can completely throw off your winter wear sales.
Apps powered by Watson have the ability to monitor your supply chain, the market, and consumer demand. AI can then use that data to calculate decisions regarding your inventory, allowing retailers to spend less time researching and worrying about their strategy.
Streamlined In-Store Visits
Amazon Go, the retailer's brick-and-mortar locations currently on-hold, first opened free of registers and check-out lines. Shoppers simply used their Amazon Go app to check-in as they entered the store and sensors tracked the merchandise they put in their basket and left with.
Right now, it's questionable how realistic the technology will be for retailers to adopt. Even Amazon is temporarily delaying the opening of more brick-and-mortar stores until bugs with the automated technology can be resolved.
Like most technology, AI will take on a bigger role in the retail industry, both for customers and business owners. Just how far the technology will be implemented in-store and online remains in-question, but the possibilities are certainly astounding.