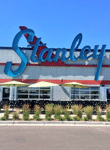 Pulling off Peoria St. in downtown Aurora, we drove down a dusty road wondering where the GPS could possibly be taking us. Not long after, the word "Stanley" in bold letters reminiscent of a 1950's diner sign was straight ahead.
We made it. But where exactly were we? To be honest, I found Stanley Marketplace for the brewery but stayed for the retail.
Stanley Marketplace is an indie oasis outside of Denver, Colorado. Located in an old aerospace building, Stanley is an airy warehouse hangout home to over 50 local businesses. When I visited Stanley on a Monday afternoon, families, friends, and even their dogs were gathered in the marketplace eating, drinking, shopping, working, and playing.
While Stanley Marketplace may meet the technical definition of a "mall" it feels wrong to use that term. Take the general concept of a mall, flip it upside down, shake everything out, and start from scratch. Then you might end up with something like Stanley.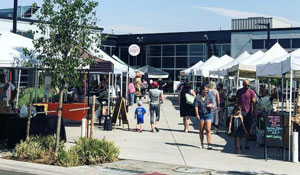 Bryant, Chief Storyteller at Stanley told us, "Our team was looking for a small place to open a friendly neighborhood beer hall when we found the Stanley Aviation building in northwest Aurora. It's much too big for just a beer hall, so we expanded our plan and set out to build a community hub that celebrates Colorado businesses. We were inspired by the history of this building and knew the surrounding neighborhoods wanted great local businesses nearby. We wrote a document called the Stanifesto and used that to build a community of business owners. It's been quite the journey!"
Today's shoppers are looking for quality food, retail, and entertainment as much as any other generation of shoppers. But today there is a greater demand for local goods and independent businesses. At Stanley, shoppers can find fresh beer at Cheluna Brewing Co, nationally renowned pampering at Clementine's Salon, curated clothes from Steele Angel, baby and mom-to-be gifts from Little Wolf, unique artist tidbits at Trunk Nouveau, and much more including a zero-waste market and a maker space equipped with 3D printers. Bakeries, bars, barbershops, boutique exercise studios and more, Stanley has something for everyone. As the Stanifesto says, "This is no ordinary marketplace…we believe in doing things differently."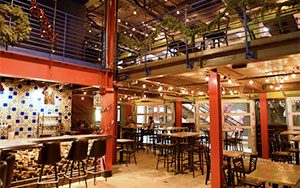 Bryant says, "We are 100 percent local Colorado businesses that believe in doing things a little differently, with way more than the bottom line in mind." During my visit to Stanley, I certainly found things to be a little different from traditional shopping experiences. On top of the one-of-a-kind businesses and products, the building is dog-friendly. Shoppers can take beer or wine to go and browse stores while sipping. All the spaces are open and airy.
Bryant continues, "We've got a great mix of businesses and we host all kinds of events here, which means coming to Stanley is an experience every time. You can come here to shop, to eat, to work or to work out, to hear live music or see a play or get a haircut. We are very involved in the neighborhoods around us and in the greater Aurora and Denver metro areas, and we work with a bunch of local nonprofits to make sure we're always giving back."
Stanley first opened in December 2016 and has added new businesses throughout all of 2017 and even into this year. The newest addition is a large events venue called The Hangar. They also have a five-acre field. "We recently hosted a taco festival and a food truck festival. Having those spaces enables us to host all kinds of events, so we'll continue to do that in the years ahead," says Bryant. "Our Stanley Arts Festival is September 7 – 9 and we'll celebrate Small Business Saturday in a huge way on November 24. We're always working on new partnerships over here."
In many ways, Stanley Marketplace is a perfect reflection of what today's mall should be: a community gathering place where people from all over can play, relax, create, and enjoy. Not necessarily just a place to buy things though that certainly happens along the way.