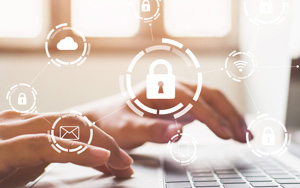 Owning and operating an eCommerce business is no simple feat. It takes a great deal of market research, product quality research, marketing strategy, time investment, and, of course, hard work.
However, it is equally true that many online businesses are likely to forget about their cybersecurity practices. In fact, just 6 in 10 small businesses don't have a digital defense plan in place. Many businesses often realize its importance only when they experience a data incident that leads to legal problems, data loss, and other liabilities.
Cybersecurity is becoming increasingly important for ecommerce retailers of all sizes, especially as the popularity of online shopping grows and brands utilize consumer data to their advantage. Here are three of the top benefits of cybersecurity for e-tailers and tips for improving cybersecurity practices at your own organization:
Minimizes Risk of a Data Breach
Cyber breaches seem to be occurring more now than ever before. Businesses both large and small that haven't prioritized cybersecurity are running into major dilemmas when it comes to data security, putting millions of consumers at risk of compromised data.
Cyber breaches aren't just detrimental to impacted consumers, but for businesses too. The financial consequences of a cyber attack can be unsalvageable to a small business, costing businesses of all sizes $200,000 on average. Prioritizing cybersecurity best practices can mitigate these risks, and can save your business financially in the long run.
Builds Consumer Trust
With an influx of major data breaches that have occurred over the past few years, today's consumers have been especially focused on the protection of their personal data, and are loyal to businesses that they feel safeguard this information with the utmost security. However, the current state consumer trust in retail brands is minimal—PwC reports that just 25 percent of consumers believe most companies handle their sensitive personal data responsibly.
The stark reality is consumers don't trust businesses as much as they used to, and when businesses can't prove they can protect their customers' sensitive data and use it responsibly, they can't harness the value of that data. As the frequency and scale of data breaches continue to rise, so do consumer worries. Companies must understand and address these concerns or risk losing valuable business. Ecommerce retailers who take cybersecurity practices can offset this distrust.
Adds a Competitive Advantage
With business security and consumer trust so inherently connected, retail brands who prioritize this value-add are sure to win in the long haul. The aforementioned PwC report also found that "87% of consumers say they will take their business elsewhere if they don't trust a company is handling their data responsibly." Taking a proactive approach to cybersecurity practices helps to not only mitigate the risk of a cyber breach, but also solidifies consumer trust and strengthens customer loyalty.
Tips to Improve Cybersecurity
Because many cybersecurity mistakes stem from human error, this initiative must start from internal policies, practices, and implementation. Here are a few tips to improve your internal cybersecurity practices:
Strengthen your corporate password requirements: Passwords are at the core of every security policy, yet ensuring they're secure and enforced isn't easy. Using a password manager can set company-wide minimum password standards to meet your policy requirements and ensure high-quality passwords.
Invest in network security: Having a secure network connection can ensure that your data isn't falling into the wrong hands. These types of solutions, like software-defined wide area networks, fortify your network security and keep employees' connection secure regardless of their location.
Regularly update your software: Software updates often repair security vulnerabilities that, if left unpatched, leave its users susceptible to hackers and subsequent cyber attacks. Maintaining proper attention to available software updates and completing them in a timely fashion is a simple way to reduce this risk.
Communicate best practices with your employees: Once you've settled on the best cybersecurity practices for your organization, be sure to adequately document your strategy and communicate it with your employees. This way, they're properly informed and educated on the practices they should follow.
Being proactive when it comes to cybersecurity for your retail business is vital. Not only can integrating these practices into your organization minimize the risk of a cyber breach, but it can also be impactful in garnering consumer trust, building customer loyalty, and improving sales.