Every year, RSR takes a look at, "the state of the store," and this year's benchmark report featured responses from 86 qualified retailers. Findings consistently show retailers understand the importance of creating a better in-store shopping experience for their customers. However, in 2010 it became clear that armed with more technology than most store employees and managers, the consumer was crafting his or her own experience. While store traffic was up, comparable store sales were up only in low-single digits. On the other hand, online sales rose by more than 15 percent. The evolution and proliferation of consumer-held technologies have brought stores to their Rubicon. The inflection point has passed, and the time to react is NOW.
The question is no longer, "How can we make the in-store experience as satisfying as the web?" It has become, "How can we make our stores more significant than showrooms for online merchants?" The goal in this study was to explore the tools retailers are adopting to improve customer engagement, facilitate assisted selling, educate employees, and reverse a difficult trend.
First, it's useful to know how retailers' view of in-store technologies is evolving. Not surprisingly, the most frequently cited use of technology remains to maintain and/or improve the customer experience. Retailers with annual revenue greater than $1 billion are most interested in using technology for this purpose, with 88 percent recognizing that their bigness doesn't make them immune to customer defections. And while all retailers still want to keep operational costs down, they've clearly decided it's more important to use their employees to create a differentiated customer experience. In truth, this is how the store can differentiate itself from other selling channels. It provides an opportunity for person-to-person interaction.
For three-quarters of our retail respondents, that doesn't necessarily mean they want to add more "bodies" in the store. In fact, those who self-report average year-over-year comparable sales growth, are still cutting payroll as a percentage of sales, but in aggregate, half of retailers report they have finally stabilized their payroll-to-sales ratios.
Empowering and Educating Employees Rises in Significance
Taking technology from the hands of the consumer, retailers have begun to show a dramatic increase in the use of technology to educate and empower their employees (Figure 1).
Figure 1: Most Retailers Now Providing Technology for Store Employees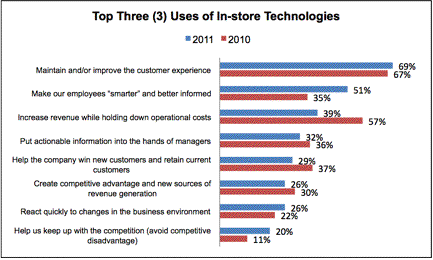 Source: RSR Research, June 2011
While projects were postponed during the height of the Great Recession and economic prospects remain uncertain, retailers have gone forward with these plans. In fact, they recognize they have no real choice in the matter. The change has been gradual over the past three years, but in 2011 we see more than half our surveyed retailers report they have implemented some form of mobile technology touch-point for their managers.
Busier and Smarter at the Same Time
This year's respondents recognize that with the proliferation of information available to even the most technologically-challenged customers, the role of store associates in the modern age requires significant reconsideration. Rarely does a customer walk in off the street as a "blank page," requiring the sales assistance of yesteryear. Instead, the spectrum of what customers do need from floor staff is more varied today than it has been at any other time in history. The most informed and time-constrained customers may only require assistance during checkout, while the sales process for customers with buying questions demands an employee who is at least as knowledgeable as those asking the questions.
To this end, retailers tell us they must maximize the return on the investment dollars spent on employees. On-floor staff will always be a requirement, but it does no good to have uneducated staff waiting around to take questions about products they know nothing about. As a result, a larger number of retailers than just one year ago are looking to make their associates more productive (58 percent this year, compared to 50 percent last). The most notable means to achieve this is by educating and empowering store employees with new technologies (56 percent this year, vs 49 percent in 2010).
Those technologies that can be used to educate employees during down time are doubly advantageous. Consumers' rapidly dwindling sympathy for retailers' inability to meet their service needs, however and wherever they so desire, is driving change. Retailers have started viewing this as a vital component to the in-store experience; 77 percent of top performers identify the implementation of technology as a very valuable opportunity to give the customer what they want in-store. The full report is available free of charge at www.rsrresearch.com.