The 53rd annual edition of the Smoky Mountain Gift Show returns to the Gatlinburg Convention Center, November 4-7, 2018, with exciting "Mountain Money Madness" and "Great Gatlinburg Getaway" giveaways joining Tennessee's largest selection of top-name souvenir and resort gift lines under one roof.
When gift, souvenir and resort retailers pre-register, they'll automatically be entered for a chance to win the Great Gatlinburg Getaway, which includes an all-inclusive Gatlinburg Attraction VIP Pass. A partnership promotion between the Smoky Mountain Gift Show and Gatlinburg Convention & Visitors Bureau, the pass — a $1200 value — awards complimentary admission for two to more than 30 of the popular mountain resort town's top indoor and outdoor attractions.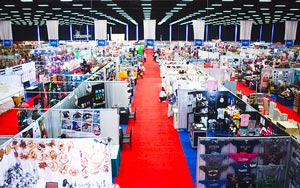 New Mountain Money Madness cash giveaways also join the show's full line-up of buyer services, networking events and savings programs. On Sunday, November 4 and Monday, November 5, pre-registered buyers can enter to win up to $1,000 cash.
"For 53 years, the city of Gatlinburg has welcomed thousands of specialty, souvenir, resort retailers and manufacturers who come not just for our show's tremendous selection, but for the renowned reputation the location has cultivated — fun networking opportunities in a charming downtown setting surrounded by restaurants, shops stunning mountain views, fall foliage and crisp mountain air," says Christina Bell, vice president, Urban Expositions. "Our new giveaways are designed to give our retail buyers the opportunity to shop, stay, play and experience all that Gatlinburg has to offer."
NEW Exhibitors Join Full Roster of Top-Name Brands, Industry Best-Sellers
Attendees will find a number of new exhibitors, including those who've returned to the show after an absence, as well as first-timers joining the roster of 300 plus exhibitors representing hundreds of lines in every category, including: wholesale destination souvenir, innovative resort and tourist merchandise, souvenirs, t-shirts, lake, mountain and lodge, ski-themed products, logo products, shell items, jewelry/fashion accessories, toys/games and much more.
Enjoy Southern Hospitality:
During the show, attendees are invited to enjoy southern hospitality at its finest with the show's free buyer services and amenities. Buyers can start their day by enjoying complimentary coffee and pastries each morning. Then relax, unwind and "sit for a spell" while also enjoying complimentary beer, wine, and cheese, each afternoon from 4:00 – 5:00 pm. Registered buyers can also enter to win gift baskets and one of three $100 cash prize giveaways during the show. The first 100 retailers at the show on Sunday, Monday, and Tuesday will receive a special tote filled with goodies from show exhibitors.
Zoo & Aquarium Buyers Group (ZAG) to host Made in America Buying Tour:
The Smoky Mountain Gift Show has partnered with the Zoo & Aquarium Buying Group to host its curated Made in America buying tour on Monday, November 5 and Tuesday, November 6 from 11 am to 12 pm. Attending retailers and ZAG members will visit vendors on the show floor and learn tips and strategies to merchandise and sell Made in the USA products in their stores. A complimentary lunch will be provided to those that complete the tour.
Smoky Mountain Gift Show Party:
All show attendees and exhibitors are invited to the annual show party immediately following the show. To gain entry to Blaine's Grille and Bar in downtown Gatlinburg, all attendees and exhibitors must wear their show badge. 21 and up only.
Free Parking & Complimentary Shuttle Service:
Pre-registered buyers can park for free at the Bearskin parking garage. This is the only free lot available and there is limited space. Parking will be first-come, first-served. Urban Expositions will also provide complementary shuttle service between the Smoky Mountain Gift Show and the IGES event in Pigeon Forge running Sunday – Wednesday.
Smoky Mountain Gift Show
November 4, 2018 –November 7, 2018
Gatlinburg Convention Center
234 Historic Nature Trail, Gatlinburg, TN 37738
800-318-2238
www.smokymtngiftshow.com