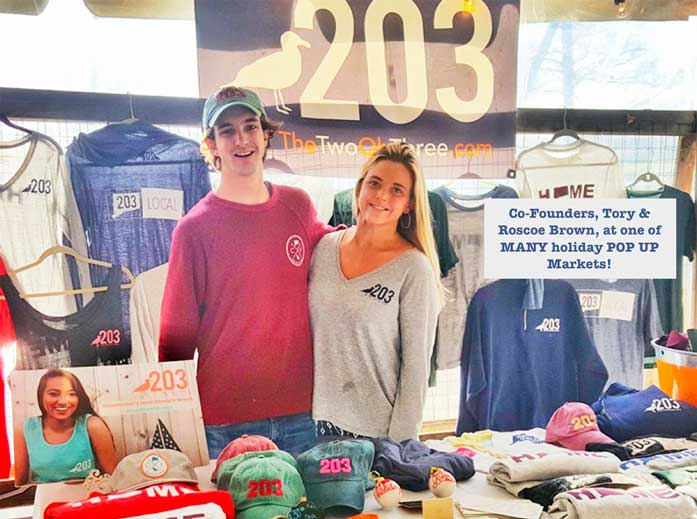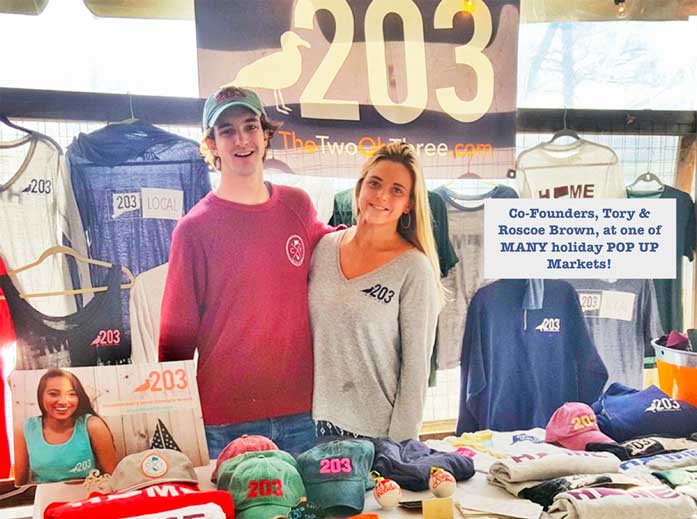 "To be honest, I don't think I was able to truly appreciate where I grew up until I went off to school," says Tory Brown, co-founder of The Two Oh Three lifestyle brand. "When I moved away from home for the first time my heart immediately longed for the coast … I began realizing that, while so many other states had lifestyle brands, there were no cool brands that celebrated Connecticut."
Tory and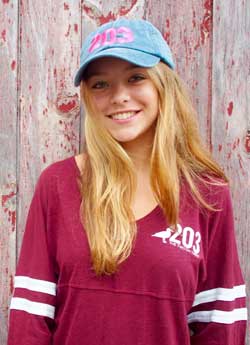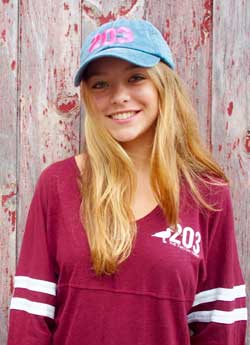 her brother Roscoe couldn't find the CT products they wanted anywhere, so they decided to make their own. "At the time, we had no idea that what we were creating would soon become a strong lifestyle brand for the entire state," says Tory.
The Two Oh Three, which stands for the area code of Fairfield County, has a flourishing retail site and provides wholesale products to many local boutiques. "Our brand has had a very organic growth, and that it something that we're incredibly proud of," says Roscoe. "The Two Oh Three has evolved through the continued support of other local businesses, neighbors, friends, customers, followers, and loved ones who have seen the brand as not only a business but a tool to embrace and enhance the community." Though The Two Oh Three does not have its own storefront, Connecticut locals don't have to look hard to find Two Oh Three products in their neighborhood.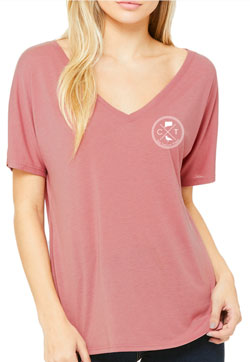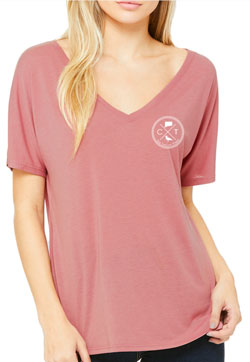 "We spend a ton of time working 'on the street,'" says Tory. "We work our booth at pop up shops and markets all over the state. We also partner with local bars, restaurants, and brands to plan fun and local activations that bring our brand to life. These events are where we have made some of our strongest connections and met our most loyal customers to date." Tory says during their busy season, she and Roscoe attend upwards of four events every week, and an average of eleven events per month.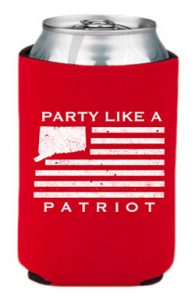 "There is so much more to our brand than just t-shirts and hats," says Tory. "Our brand is all about celebrating this community and sharing what we love about Connecticut with its locals. We are passionate about celebrating our community, shopping small, eating local, and embracing everything that Connecticut has to offer."
This year, Tory and Roscoe were included in Connecticut Magazine's 40 Under 40 list and were named 2018 American Small Business Champions by SCORE. When asked what advice they have for other entrepreneurs, Tory says "make as many connections as you can, put yourself out there as often as possible, and always give a helping hand to other small business owners." She further explains. "Creating a network of people that you can count on is indispensable. We've learned that a little bit of kindness goes a long way – and it's a core value of our company."
"From where we started to now, it's truly incredible to think how far we've come and how much we've grown," Tory concludes. "Right now, we're focused on becoming a brand that the entirety of Connecticut is aware of and continue being a brand that represents a home we're proud of – The Two Oh Three."