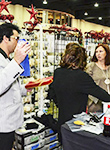 The Norton Shows are a thriving family trade show held four times a year at the Gatlinburg Convention Center in Tennessee. Originally founded by Linda and Tom Norton in 1987, the tradeshow is now in the hands of daughter Nikke Norton and grandson Hunter Norton Johnston.
Their shows are a valuable resource for all apparel, accessory, boutique, gift, and general merchandise retailers. The Norton Shows are industry-only. Most purchases are cash and carry, with some orders and immediate delivery available. "We are always on our toes to find the best merchandise and take advantage of the newest opportunities," says Nikke Norton.
Each year, the Norton Shows attracts 8,000 – 21,000 buyers and 300 – 800 exhibitor booths over the year. Like many long-standing shows, The Norton Shows have a high retention rate for buyers and exhibitors. "Many buyers know and plan in advance from whom they will be buying," explains Nikke. However, she recommends taking the time to explore new vendors. "Take a business card, look at some samples, and engage the exhibitor. Don't be afraid to build that relationship," Nikke continues. The Norton Shows have a diverse mix of suppliers ranging from handmade goods to designer brands. Nikke advises that buyers take the time to visit and peruse each booth and to see all the show has to offer.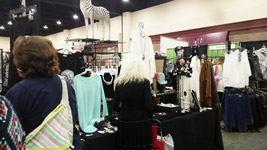 Their next show is right around the corner, September 10th – 12th. Following their September event, the largest Norton show is held every November. This show is perfect for rounding out last-minute holiday inventory. The November show also features a professional photographer who snaps and offers free photos for buyers and exhibitors. The Norton's annual special guest, Elvis, will be at the November show. Elvis is a talented tribute artist and is a special favorite of the Norton shows. He has worked with the Norton family for over fifteen years. Additionally, all of the Norton tradeshows have some form of entertainment, whether musicians, contests, fashion shows, pageants, or seminars.
"The Norton family and their tradeshows are known for their branding of warmth and hospitality," says Hunter Norton Johnston. The Norton Shows and staff are very engaged, caring, and strive to create a relaxing show atmosphere. "Comfortable, large, plush, wing backed chairs are scattered around the floor, so buyers and exhibitors can sit, rest, rejuvenate, catch your breath, and have conversations," continues Hunter.
At every event the Norton family and their staff are very accessible. "We're on the show floor and the show office is always open," continues Nikke Norton. "The show is laid back, friendly, fun, casual, but also professional. We have fun," adds Nikke. The remaining 2016 show dates are September 10, 11 and 12; and November 12, 13 and 14.