by Meaghan Brophy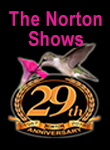 The Norton Shows are a thriving family business gearing up for their thirtieth year in operation. Founded by Linda and Tom Norton in 1987, the tradeshow is currently owned and operated by their daughter Nikke Norton and grandson Hunter Norton Johnston. The show is held four times annually at the Gatlinburg Convention Center in Tennessee and features an array of gifts, jewelry, apparel, and accessories available for wholesale cash-and-carry purchase. The event is industry-only for qualified buyers and suppliers.
The popular seasonal shows are held in March, June, September, and November. Dates are always scheduled years in advance and are carefully planned around tourist holidays. "Eight to twelve million people visit Gatlinburg every year," says Nikke Norton. "We plan our shows to occur in the slower season, avoiding large numbers of tourists so that buyers and exhibitors can obtain advantageous travel rates while allowing tourists all the attention and welcome they expect. The March show is before Easter; June follows Memorial Day; the September show continues the excitement after a profitable Labor Day; the November show builds profits before Thanksgiving and the Christmas holidays, allowing store owners to purchase needed stock and the latest in fashions." The shows draw in between 8,000 – 21,000 buyers over the year, while exhibitors sport 300 – 800 booths during the year. The Norton Shows attract buyers from all fifty states and beyond so advance registration is recommended.
"The Norton family and their trade shows are known for their branding of warmth and hospitality. Exquisite, timely exhibitor merchandise is used, dressing mannequins, accenting a table, making one take a second look, " says Hunter Norton Johnson. The Norton Shows and staff are very friendly and caring and strive to create an inviting show atmosphere. "Comfortable, large, plush, wing-backed chairs are scattered around the floor, so buyers and exhibitors can sit, rest, rejuvenate, catch your breath, and converse with your neighbor," continues Norton Johnson.
At every event the Norton family and their staff are accessible. "We're on the show floor and the show office is always open," continues Nikke Norton. "The show is laid back, friendly, fun, casual, but also professional," adds Nikke. "Several members of our staff are retired city employees and business owners. They have served visitors all of their lives and love being involved. We have fun," says Norton.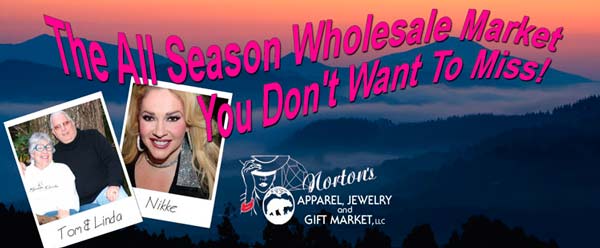 All of the Norton shows have some form of popular entertainment, whether it be musicians, contests, fashion shows, pageants or seminars. The largest show in November is holiday themed and features a professional photographer who takes snapshots and offers free photos of buyers and exhibitors smiling, working, having fun, and posing with Elvis. Elvis, a talented tribute artist, is a special favorite and has worked with the Nortons for over fifteen years.
For the thirtieth anniversary, The Norton Shows will feature buyers and exhibitors from years past mixed with a younger generation of entrepreneurs. "We'll have a reunion of sorts with one very delightful, talented fine jewelry exhibitor who is much in demand worldwide, " confides Nikke Norton. Even with the fun and engaging atmosphere, what makes The Norton Shows truly successful is the carefully selected group of exhibitors. "We go after the best in apparel, accessories, jewelry and gift," adds Hunter. "We are always on our toes to find new opportunities and we encourage our buyers to do the same."
Like many long-standing shows, The Norton Shows have a high retention rate for buyers and exhibitors. "Many buyers know and plan in advance from whom they will be buying," explains Nikke. However, she cautions buyers to not overlook new vendors. "Take a business card, look at some samples, and engage the exhibitor. Don't be afraid to build that relationship." The Norton Shows have a diverse mix of suppliers ranging from handmade goods to designer brands. Nikke recommends that buyers take the time to visit and peruse each booth and to see all the show has to offer.
While in Gatlinburg for the show, Hunter recommends setting aside time to explore the area. "Our show is located one minute from the Great Smoky Mountains National Park boundary. The park is free to all visitors and has so much lore. It's a double win: take a vacation in the number one national park in America and attend The Norton Shows all in one trip."
The remaining 2016 show dates are June 4, 5, and 6; September 10, 11 and 12; and November 12, 13 and 14. Find out more at www.nortonshows.com.