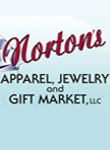 The Norton Shows' upcoming wholesale trade show will be held March 15-17 in Tennessee's state-of-the-art Gatlinburg Convention Center. Since 1987, the shows have been the go-to wholesale market for apparel, jewelry and gifts, drawing attendees from all 50 U.S. states, Canada, Central and South America, and the Caribbean Islands. Tom and Linda Norton own the Gatlinburg Apparel and Jewelry Market LLC, and their daughter, Nikke Norton, is the sole proprietor of Norton's Gatlinburg Gift and Variety Show, LLC. The two shows are always held concurrently, to offer attendees a wide range of quality products in one convenient location.
Much like the retail store, Anthropologie, the Norton Shows have various goods for all ages. "Anthropologie is an extremely fun, well merchandised property, and it has items for every generation, from embroidered tea towels to modern and ethnic clothing. That is our goal as well," Norton points out. "We want to please retailers who want the very latest fashions as well as those who want things that have an old world feeling. The shows' wholesale cash and carry policy is important, because merchants can stock their stores with these fresh and unique items without waiting for shipments, she adds. Furthermore, buyers will not find themselves with an overload of inventory, because there generally are no minimums. "Many times people call before the show is over wanting to reorder because they have sold the items they purchased just a few hours prior," Norton states. "Our exhibitors do very well. They also report large re-orders throughout the year."
In addition to the March date, markets will be held June 7-9, September 6-8 and November 15-17. To pre-register to attend, click here.
The Norton Shows
P.O. Box 265
Gatlinburg, TN 37738
Tel.: 865-436-6151 or 865-436-6158
Website: www.nortonshows.com