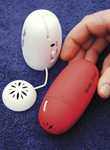 Guess which has better sound quality: a cardboard box or a hollow-core door?
If you said, "They both sound great," then you're probably familiar with the Sonic Pod line of vibration speakers.
Vibration speakers are small speakers that are designed to stick to surfaces and then use those surfaces as amplifiers to create a much bigger sound than seems possible from a tiny unit, according to Josh Eastman, owner of New Age Discoveries, which distributes the Sonic Pod. Depending on the surface—and all surfaces sound slightly different—the Sonic Pod can amplify the sound of a device up to 20 times.
"You stick it to anything that vibrates and that will become a speaker," Eastman says. "Styrofoam, cardboard, and hollow core doors are best."
Other items that can be turned into speakers include pizza boxes, coolers, motorcycle helmets, windows, walls, shower doors, cabinets, picture frames—pretty much anything that vibrates.
The product virtually sells itself, Eastman promises, as soon as people can see it in action.
"This is definitely a demonstration product," Eastman advises. "If you can pay a high school kid to set it up and demo it and you have customers coming through, you'll sell 50 to 100 speakers a day. This is what I've been doing for the past three years."
The Sonic Pod has regular headphone jacks, making it compatible with laptops, MP3 players, phones, and even ebook readers.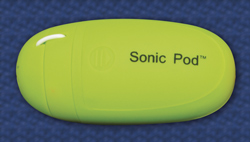 "Everybody has a device now like a phone or laptop or Kindle and I can promise you that all of those speakers are junk," Eastman says. "So everybody has a use for one of these."
The Sonic Pod comes with a sticky silicone pad that adheres to all sorts of surfaces. The adhesive silicone can be cleaned hundreds of times before it needs to be replaced, and then replacement pads are inexpensive.
Units are also equipped with a 30-inch cord, which is a huge improvement over the shorter cords that came with earlier versions of the product, back when it was called the Sonic Quake.
"You have a lot longer ranger to stick to things," Eastman avers. "Basically, the Sonic Pod is the newer and better version of the Sonic Quake. We took all the best features of all the sonic vibration speakers that came before and put them into one new speaker."
How to Buy Products
The Sonic Pod is perfect for electronic shops, gift shops, novelty stores, and even convenience stores or resort shops.
There is a 25 piece minimum on wholesale orders. The product wholesales for $10/unit, with a suggested retail price of $24.95. All products come with a one-year manufacturer's warranty.