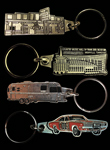 Spend a little time talking to Gerry Casey, general manager of Bishop & Sons, and you'll never think the same way about keytags again. It's tempting to view keytags as slightly boring accessories that you're obligated to carry—typical keytags often aren't creative or very high quality. Operating under the name Mr. Keytag, Casey and his team are hoping to change all that.
The company specializes in custom made keytags that boast incredible detail and can be crafted for any attraction. "Everything we do is 100 percent custom per client," Casey says. "If you look in a typical gift shop keytag selection, it's all the same. Very little is customized to that shop, resort, attraction or whatever. We take keytags up another notch."
The Mr. Keytag process begins with a consultation, which is then by followed by the graphic design phase in which the company's graphic designers work with new clients to create the perfect keytag. Once a design is created, a custom die is made and the company is ready to begin stamping out and shipping keytags.
The finished products are made from zinc with several finishes available, including antique silver, brass, or copper. Casey notes that it's also possible to use several different finishes on one keytag for an even more polished look.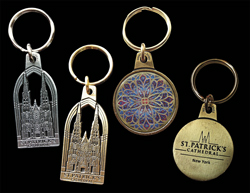 "The detail on these exceptional," he remarks, saying that it's not uncommon for new customers to get their first shipment of keytags and immediately call the company to remark on how beautiful the finished products are. "People can't get over the detail."
"We stress excellent customer service and top-notch design work," Casey says. Part of the appeal of the Mr. Keytag products, Casey relates, is the value proposition. In many shops, "custom" keytags include large racks with individual names on them, so "you hope you can find one with your name on it." By contrast, Mr. Keytag's products are custom to the location or venue—so instead of a rack of hundreds of keytags, a retailer can set up a simple display with only one or maybe two designs.
"These are very small-footprint items," Casey says, "but they are very profitable. We have some accounts that are profiting twenty thousand dollars or thirty thousand dollars a year from a single keytag design. Once you begin to offer them, they move really fast. Most of our customers reorder almost immediately." Mr. Keytag products are also distinguished by their quality: all items are made in North America instead of overseas.
To Order
Because of the custom nature of the product, the best way to order Mr. Keytag products is to email the company directly and start the consultation and design process. In general, the keytags cost about $1.50/unit at the wholesale level and typically retail for between $7 and $8 per unit.
There is no minimum order, but on orders of more than 250 units, the charge for the custom die that is used to create the keytags is included. On orders less than 250 units, there is a charge for the die that, according to Casey, usually offsets the savings from buying a lower quantity, so most customers just go ahead and purchase 250 units to start.