By Pat Dermody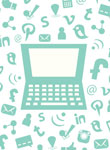 "Drive them to retail" is a marketing mantra as old as the marketplace, and it's back. It appeared for a while that online purchases would continue to erode brick-and-mortar traffic. Showrooming represented a detour from the traditional purchase path, as consumers began to browse for items at stores, and fulfill the purchase online for fractional discounts; an idea driven by cold logic in the pursuit of price. But that has changed. According to an Accenture survey, 88 percent of people are now "webrooming." More and more, people are beginning their shopping online or via mobile to find the items they want.
The eyes have it
According to a survey by Harris Interactive, people still want to see, touch and feel what they're buying. A report by the Columbia Business School found there are five types of mobile-assisted shoppers. The two most popular are Experience-Seekers (31.7%) that rely on the shopping experience, not just prices, and Traditionalists (30.2%), who prefer in-store shopping.  It's the physically interactive, but also emotional reward of shopping. These shoppers want the immediate gratification of taking a product home that day, and dread the possibility of a return to an ecommerce company through mail or a shipping service.
As a result, consumers have done a flip on showrooming as a path to ecommerce, and are using technology to balance the emotional reward with the logic of price, or webrooming.
According to Merchant Warehouse, a company focused on business payment solutions, of shoppers surveyed:
47 percent don't want to pay for shipping
23 percent did not want to wait for the product to be delivered
46 percent like to go to a store to touch and feel a product before they buy
37 percent like the option of being able to return the item to the store if needed
The retail killer-app
The result is a revival of local stores and the traditional shopping experience. But in this instance, new traditions are emerging. A recent study by BIA/Kelsey and ConStat found that webroomers are predisposed to purchase an item before they walk in the store. Amazon is the most popular website for webroomers to visit to research products before shopping at a local retailer. In a Harvard Business School Study on the Future of Shopping, some people are even buying before they walk into the store, and either arrive to pick it up, try it on, or to learn more about it. When you consider the effort and investment that retailers expend to close a sale, webrooming has become the killer-app.
Retail revival
The revival of retail hasn't been lost on the experts. More and more retailers are turning to an omni-channel approach for their marketing messaging. They're going beyond physical retail and a website to social networking, and most importantly, mobile. It's the mobile aspect that has empowered consumers and revitalized retailers through webrooming. According to a recent report by BI Intelligence, retailers have learned that incorporating offline and digital offers takes sales away from online competition. The report also points out that a significant amount of referrals for local stores are being shared on social media. According to Forrester Research, webrooming will result in $1.8 trillion in sales by 2017. In comparison, all ecommerce sales should reach $370 billion in 2017.
Retail reality
Showrooming won't go away, but it's diminishing. Webrooming and the emergence of the mobile shopper continue to grow, as it satisfies the emotional rewards of shopping with the reassuring logic of price. It's critical to watch how the statistics continue to evolve. According to the Merchant Warehouse study, 80 percent of local searches on mobile devices turn into purchases, and about 75 percent of those purchases happen in-store and same day, while 63 percent happen in just a few hours. Retailers are leveraging in-store incentives to keep shoppers making purchases at the brick and mortar location. Consumers' webrooming will continue to grow, as retailers find new ways to make the in-store experience special for customers, compared to shopping online.
Retail future is now
The bottom line is clear. Webrooming enables virtual browsing that drives customers to local stores. These are customers who are already knowledgeable about the product, are satisfied with the price, and ready to buy. Webrooming thrives from word of mouth, whether through friends and family or checking social media pages. Shoppers will be the first to tell you, webrooming is not about the future— it's about now.
Pat Dermody brings more than 20 years of marketing, retail and leadership experience to her role as President at Retale. As a veteran of both agency and client side marketing, she is skilled in offline and online channels, brand strategy and retail marketing, and mass and targeted interactions.