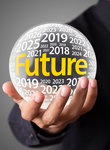 This time last year, in the cover story of our January 2017 issue titled, "What's Next For Retail?" we made some predictions on what would happen in our industry over the course of 2017. Some of our forecasting was on point, while other statements missed the mark. Let's take a look at what we thought would happen in 2017, compared to what actually took place:
Prediction: "2017 will see an increased realization of omnichannel as more technology mediums become ubiquitous."
Rating: Partly True. More shoppers than ever before are using cell phones for both purchases and product research. Many retailers spent lots of time and resources over the course of 2017 updating their mobile presence. However, the shopping experience is still not completely seamless. Retailers have a long way to go when it comes to putting together consumers' online and offline interactions. But, the first steps of recognizing and prioritizing mobile are there.
Prediction: "Amazon's Echo® and Google Home® will become more mainstream household technology, inevitably impacting the consumer shopping experience."
Rating: Partly True. Amazon's Echo and Google Home are certainly more prevalent in American households than they were this time last year. Over Black Friday weekend, Amazon sold "tens of millions" of Echo devices. While shopping via virtual assistant may not be a common phenomenon yet, the prevalence of Alexa-powered systems will make Amazon an even tougher competitor down the line when more people do use their Echo devices for shopping.
Prediction: "Amazon Go and cashier-less stores will have some hype this year, and we will see if the experiment is just a fad, or if it will have staying power."
Rating: False. In December 2016, Amazon announced their "just walk out" technology and opened up an employee-only test store. Due to glitches in the technology, one year later the store is still in test-mode and not open to the public. While the concept made headlines when first announced, excitement and seemingly progress has since fizzled.
Prediction: "Virtual reality (VR) will become more widespread for online shopping experiences, including Wayfair®'s successful VR app, where shoppers can view home décor products in their own homes before purchasing. Successful new launches like these will serve as a model for other retailers as VR technology and headsets become more readily accessible to the everyday consumer."
Rating: Partly True. VR headsets were more accessible to everyday consumers, and retailers other than Wayfair are utilizing the technology to allow shoppers to virtually test products. However, our prediction mentioned online retailers. VR technology is becoming more prevalent in brick and mortar stores, particularly in the beauty industry. Sephora® and NYX® are utilizing VR technology to allow customers to "try on" different products in-store.
Prediction: "In the upcoming year we will continue to see brick and mortar partnerships that expand retailers' target audience without losing brand value or alienating current customers."
Rating: Partly False. Instead of brick and mortar stores partnering with other brick and mortar stores, we saw many ecommerce retailers partnering with physical retailers. For example, Amazon partnered with Kohls® for return processing.
Prediction: "Social media marketing and cross-channel promoting will become increasingly important, especially as social platforms continue to develop new ways to seamlessly integrate advertisements into the user experience."
Rating: True. This was an easy prediction to make. Social media is increasingly important for all retailers, as more and more people use mobile devices for product research, price comparisons, and discovery. Influencer marketing was huge this year, and platforms such as Instagram are constantly innovating to make these partnerships and brand discovery a more seamless part of the user experience.