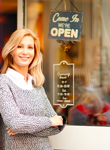 For over a century, mom and pop businesses have been the backbone of American communities. Customers trusted their neighbors for quality products and great service, and retailers ran successful businesses, knowing their customers, what they wanted, and when they wanted it. These small businesses are still an important part of our communities and economy. But, there is no question the competition is tougher than ever.
1962 was the year of big box stores. In that one year, Walmart®, Target®, and Kmart® all opened their doors for the first time. These new store formats focused on low pricing, large variety, and suburban locations. Suddenly, shopping became a family activity. Instead of walking to the local retailer, families piled into the car and drove to box stores, easily spending hours in what, at the time, was an enormous emporium. The novelty of the box store experience captured shoppers' interests for decades to come.
For the next fifty years, box stores continued to expand in more ways than one. Their popularity soared, with consumers loving the low prices and convenience of doing all their shopping in one trip. The size of these stores also continued to expand. Box stores in 1962 were around 50,000 square feet. In 1988, Walmart® opened their first of many Supercenters, some of which are as big as 260,000 square feet. In 1995, SuperTargets opened, reaching 174,000 square feet.
However, by the mid-2010s, shoppers were fatigued with the massive size of these stores. Ecommerce was on the rise, and if a customer wanted to browse through tens of thousands of items, it was much easier to do that online. In the 1980s and 1990s, during the superstore boom, these retail giants opened stores at a breakneck pace. This resulted in the United States being over-stored. According to The Robin Report, there is close to 50 square feet of retail space per person in the United States, compared to an average of 2.5 square feet per person in Europe.
In the past few years, national box retailers like Walmart® and Target® have introduced smaller format stores. Target® introduced CityTarget® and TargetExpress®, which were as little as 17,000 square feet. Walmart® started their Neighborhood Market®, which averages 42,000 square feet.
Curated Merchandise
For retailers, smaller stores are almost a no-brainer. Smaller spaces cost less money and require fewer employees. Studies have even shown that shoppers are more likely to make a purchase when there are fewer options to choose from. According to Market Realist, smaller format Target® stores are almost twice as productive as traditional Target® locations. Target Corporation describes their Express stores as a "flexible format" that's able to offer "locally relevant experiences." In other words, Target has discovered that shoppers in different areas of the country want different things. There is no one-size-fits-all product selection for the entire country.
Independent retailers have always known this. Different shoppers have different needs, and those needs are usually unique to a certain neighborhood. Once the novelty of big-box shopping wore off, customers were left wanting the familiarity and expertise of a local retailer.
In-Store Experience
Nordstrom® is one of the most recent large-scale retailers to roll out small format stores. A traditional Nordstrom® location is around 140,000 square feet. In September, they introduced Nordstrom Local®, a 3,000 square foot location without any clothing racks, but rather personal stylists, a bar, and a nail salon.
Nordstrom Local® wants shoppers to feel relaxed, comfortable, and develop an emotional bond with the retailer through the personalized in-store experience. The in-store experience is an area which independent stores have traditionally excelled. Knowing customers on a first-name basis, remembering their order, making tailored suggestions, have been best practices of independent retailers for decades. Now, chain stores are using Big Data personalization technology to try and mimic the type of experience community businesses are known for.
Neighborhood Locations
Many of these smaller format stores are opening up in urban areas, on main streets, and in general, areas that are within walking distance for locals. This is a sharp turn from the box stores of the past, which were more or less only accessible by car.
In the 2000s, box bookstores were hit especially hard. Borders® went out of business and Barnes and Noble® closed many of their locations. Many argued that the bookstore, and indeed the print industry as a whole, was on the decline.
However, American Booksellers Association membership has increased 25 percent since 2009. The number of storefronts operated by those members has increased even more — up 40 percent since 2009. Shoppers are still buying print. They are also still buying in-store from their neighborhood independent retailer.
In the mid-2010s, Amazon made headlines when they announced the opening of brick and mortar bookstores in major cities across the U.S. The reality is, Amazon realized the demand for brick and mortar bookstores was still there, and that the void was being filed by mom and pop businesses.
The novelty and efficiency of box stores took our country by storm for several decades. Then, ecommerce retailers with larger than life selections and fast delivery captured our attention. But, the neighborhood retailer and the corner store have succeeded quietly for over a century. These retail behemoths are finally realizing what the independent has always known. Offering a curated selection of merchandise with a personalized and pleasant in-store experience in a convenient neighborhood location is a recipe for success for any retailer — large or small.