By Lisa Evans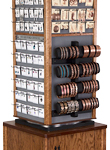 After 70 years, Wheeler Manufacturing Company knows their business. Travis Maier, Sales Manager at Wheeler, explains the simple foundation for the company's long-standing success. "We're an old school company," he says, " Our practices are very simple – and very efficient. Our people are highly trained – and amazingly skilled. Our jewelry is the best quality and because we do it ourselves, we can manufacture everything at super competitive price points. All of our products are backed with a lifetime guarantee. You really don't find that a lot any more, and we're proud of that."
Starting with just 4 employees back in 1946, founders Fran and RB Wheeler grew their sterling silver ring business in Lemmon, SD into a wholesale jewelry powerhouse, helped along by their sons Brad and Rob who joined the family business in 1978. Now with a team of well over 100 factory employees and an additional roster of more than 60 sales representatives across North America, Wheeler's focus on high quality materials and top-notch workmanship have combined to propel the company to the number one spot in jewelry production for the tourist, travel and souvenir industries.
For Wheeler, old time values mean working in close partnership with their customers, and going above and beyond expectations to ensure their clients' success. "That's the difference between us and other companies," says Maier. "We hold our people to a very high standard. Our reps are truly partners in the business. They go to every store, they work with every client and they really care. They don't just write orders and walk away." In fact, Wheeler reps routinely visit retailers simply to check in on their clients' business, double-check inventory levels and report back to the head office. "Our reps visit a lot of their clients in the off season, as many of the stores we sell to have maybe only 100 days of selling time in the souvenir season," Maier explains. "We want to make sure that they have what they need, down to the display cases and the product assortment."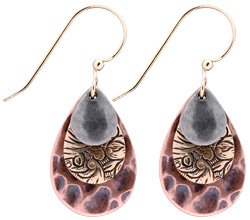 The ability to customize displays for their retail clients is a simple thing for Wheeler– they also own and operate Dakota Woodcrafts, a high-quality display case manufacturing company. "Some retailers are under very strict visual or design requirements and a certain look and feel has to be met, so when we sell to these retailers we are able to ensure that displays are never an issue in terms of what the floor looks like," Maier offers. This is especially important when considering the amount of space available in many storefronts. "The revenue per square foot is crucial," Maier notes. "In the souvenir and tourism industry, we're known for being the absolute top seller when it comes to dollars per square foot. Our jewelry is very consistently the top selling item retailers carry on a square foot basis. The displays don't take up a big footprint, and the jewelry sells really well."
Despite being an 'old school' company, Wheeler has more than kept up with the times, using high-end reporting and analytics to refine sales reports and help their customers target their most profitable products. Offering a wide selection of jewelry including the trademarked Silver Fetish®, Nature's 1®, Bria Kate®, Dakota Gold & Silver®, Moda Ornamenti® lines, as well as a successful line of sterling silver charms. Wheeler reps keep close tabs on their clients' business and offer detailed recommendations based on sales history.
"If there's a floor stand, depending on the program, you've got a number of types of jewelry in the panels in the stand and we look at it from a wholesale perspective. We look at what has sold in each panel, decide what the best selling panel is and what the weakest selling panel is. And then we refine it further to look at the sales on a piece by piece basis," Maier explains. "There are a lot of pieces that are tried and true and just sell because they are classic and everyone wants them. We always keep what's working in the customer's display, and then we introduce other new things to allow our customers to stay updated in their product line, and at the same time, they know we're working with them to maximize their sales. It's just part of our service."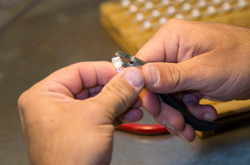 Another example of Wheeler's exceptional partnership with their retail customers are their generous dated payment terms. Because many of their customers are in seasonal businesses, Wheeler offers product ordering and payment plans that flex to meet the needs of every client. "We essentially finance our customers for months – they can pay early, of course, and get a discount, but it's not required," Maier says. "As a retailer, they may have to keep their store open through the off season, but they still have to make their payroll even when they don't have much business. If retailers come to us and they ask us if we can give them 60-day terms, we can offer them 6 months. That's just who we are. It's a long held business practice that we believe in; it's what we do. We want these businesses to succeed so we do what we need to, to give them a great product assortment all year."
Wheeler has continued to grow and most recently has been working to expand their roots from sales in souvenir and gift stores into new territory. Maier notes that many retailers in outlets like hair salons, flower shops, and even sporting goods stores have found success carrying Wheeler jewelry. "Just because you aren't a tried and true jewelry store or a gift shop doesn't mean that jewelry won't sell in your store. You can sell jewelry pretty much anywhere now," he says.
Celebrating their 70th year in business in 2016, the entire Wheeler team looks forward to continued success while maintaining their traditional high quality and exceptional service.
For more information on carrying Wheeler Manufacturing Company jewelry in your store and to view current catalogs, please visit www.wheelerjewelry.com.