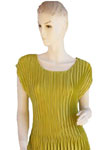 Oriental Apparel Inc. has been wholesaling unique and popular women's and children's clothing and accessories imported from China for more than a decade. "Comfortable mini pleat, crush and popcorn fashions are ideal for home or travel, and they will be big sellers for spring and summer," says owner Ling Yuan. "They are one size fits most, wrinkle-free, lightweight, and easy to hand wash and dry."
Mini pleat shirts, skirts, dresses & more
Among the firm's top trending fashions for spring and summer is the mini pleat line of clothing, which includes shirts, skirts, dresses and coats. Mini pleat shirts are available with short, three quarter and cap sleeves, as well as with round and V-neck collars, and in a tunic style. Wholesale starts at around $11 per shirt. Matching skirts with feminine tiers are also available.
In addition, Oriental Apparel has a large selection of fashionable mini pleat dresses, which contour the body and hit just above the knee. The dress with three-quarter length sleeves offers an air of sophistication, the short sleeve dress has a slightly conservative look, the cap sleeve adds a hint of fun, and the flirty spaghetti strap style is perfect for day, as well as evening when paired with Oriental's stylish sweater vest. Mini pleat dresses start at around $18 apiece. Mini pleat coats are mid-calf length, with a scalloped edge and four buttons. Mini pleat apparel is available in an assortment of more than 100 colors and patterns. These include white, teal, hot pink, royal, and red, and dots, geometrics, florals, and animals.
Textured crush & ever-popular popcorn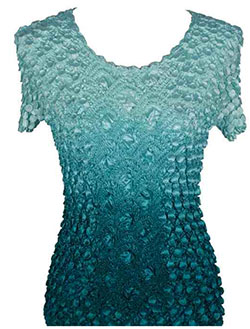 Another popular line this season is crush apparel. Made from textured fabrics, this form fitting clothing comes in a huge array of colors, patterns and styles. A selection of three quarter length and short sleeve tops and tunics, quilted and reversible jackets, and coats comprises the line. The popular short sleeve shirt with jeweled buttons is available in a variety of today's hot colors such as lilac, teal, royal and burgundy, and is a top seller. "Tunic shirts have a distinctive style, and are also very popular this year," Yang notes. Oriental Apparel's popcorn line continues to maintain its popularity, season after season. These smooth and stretchy fashions come in a range of fits, including shirts with long, capped and short sleeves.
With high quality and low prices, Oriental Apparel offers quick sales and great profit margins. Retail prices are generally two to three times wholesale, and Oriental Apparel's minimum order is $200. The company continually adds new items to its product lineup. "All merchandise is in stock and can be delivered quickly," Yang adds. The firm will be exhibiting at the ASDLV show, March 16-19, at booth C4623. In addition to showcasing many of its popular styles, Oriental Apparel will be introducing a new line of accessories that includes scarves, and belts with jewels.
Oriental Apparel Inc.
1717 Ranger Ave., Unit D
Deland, FL 32724
Tel.: 386-383-2618
Website: wholesalecentral.com/orientalapparel