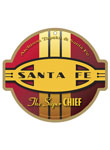 SJT Enterprises, a consumer products company, has introduced a new series of retro railroad decorative wooden plaques featuring the artwork of Peter Lerro. The line comprises, at present, 12 now defunct railroad company logos, with more to be added in the near future. Like all SJT's products, the new plaques are made in the USA. The round railroad plaques measure 10 inches. Wholesale price is $4.50 and suggested retail is $9.99 to $14.99.
"There are a lot of railroad enthusiasts that really go for this kind of thing," says SJT president Tim Smith. "Back in the day, there were hundreds of railroad companies all across the USA. Now only a few remain. Tin signs, other wall décor and other products with railroad related artwork are big sellers so these should also do well. These are great for the man cave, home bar, rec room, and other spaces."
The minimum order at SJT is $100. The firm will be exhibiting at the Global Pet Expo, March 12-14, in Orlando, FL; ASD Las Vegas, March 16-19, at booth SL1003; and SuperZoo, the National Show for Pet Retailers, July 22-24 in Las Vegas, at booth 12135.
For more information:
SJT Enterprises Inc.
Tel.: 440-617-1100
Website: www.GreatStoreStuff.com