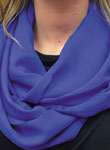 With the advent of spring, many consumers are eager to freshen up their look with the latest fashion accessories. These products offer a cost effective way for customers to express their personal panache, and earn retailers big profits, too. Today's top accessories include Victorian inspired steampunk necklaces and earrings, low cut socks in trending colors, nonslip sparkly headbands, pink camo sunglasses, an exclusive daisy flower jewelry collection, and more. Retailers stand to heat up sales with these hip products from trusted wholesalers, many of whom will be exhibiting at the ASDLV show, March 16-19.
Steampunk Experience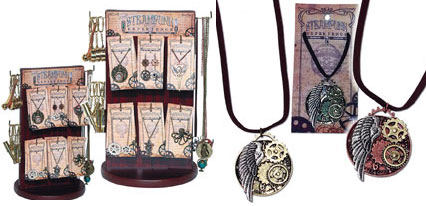 Emerging fashions are a strong focus for Monster Trendz, and owner Matt Huusko says the biggest thing this spring is steampunk Victorian inspired jewelry. IBM recently predicted that steampunk would be a major trend, based on an analysis of more than half a million posts on message boards, blogs, social media sites and news sources. Monster Trendz' line, called the Steampunk Experience, includes earrings and necklaces in around three dozen styles. "It is fun and attractive, and there are many genres and characters. Some of the more popular designs are gears, the lady skeleton and the kraken octopus, which is from 20,000 Leagues Under the Sea. Some necklaces have a suede cord and others have a chain, and the 24 and 30 inch length necklaces are popular," Huusko reports. "Steampunk used to be very expensive, and retail was $30 to $40 apiece. Our items retail for around $10 each, and wholesale is $2 to $3.50. Steampunk is popular with guys and girls in their teens and 20s. They buy multiple pieces and combine them. It is a full ensemble and drives spending, which is nice for retailers."
Flower crowns
Monster Trendz also just introduced an assortment of silk flower crowns, which girls and women wear around their heads. Huusko expects them to be popular with tweens, teens and 20-somethings. The line launched with around a dozen crowns created from a variety of flowers, from thin, small wildflowers to big, bold tropical designs. "Flower crowns were hot sellers at festivals last summer, selling for $30 to $50 each.  We are making them much more affordable," Huusko adds.
New looks in Made in USA socks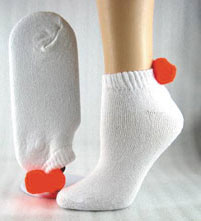 Alabama Wholesale Socks manufactures fine quality socks for men, women and children at its plant in Sylvania, AL. Low cut, no show, quarter and ankle socks are popular for spring and summer, and are available in several trending colors. "We are experimenting with some new yarn for these styles, and also getting into athletic socks for running, hiking and outdoor sports," says owner Tommy Evans. Alabama Wholesale Socks recently doubled the knitting capacity of its plant with the addition of new specialty machines. They are higher needle count machines, which make a smoother, finer gauge knit. The firm is introducing several new items such as higher end dress socks, as well as new patterns and designs of existing lines. "Socks are a great part of any retailer's product lineup. They are an easy sell, and offer hefty profits," Evans notes. Alabama Wholesale Socks also does custom work. "If someone has a line of socks that is currently being made overseas, we invite them to give us a try. We like to bring back all the business to the U.S. that we can." The firm's minimum order is one dozen pair of socks, in one size, style and color for stock goods.
Comfortable & fashionable headbands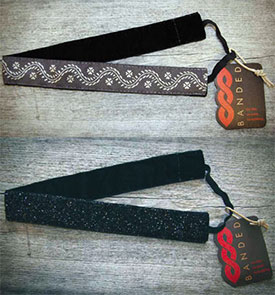 Banded™ non-slip headbands from Lightbulb Innovation Group are a unique concept in head wear, providing both fashion and comfort. The patent pending technology allows the headbands to fit small and large heads alike, while the soft velvet backing prevents slipping. A simple elastic strip secures the headband without pulling hair. Banded headbands are available in three sizes: skinny, one inch, and the new, wide band. Around 150 of the coolest designs, patterns and colors are available. "Two of the most popular designs are Gray Dragon Flower and Black Sparkle," says Matt Lindley, brand manager. The wide headband is contoured to the head and made of designer fabric from Michael Miller Fabrics. "The front edge is longer than the back edge, which means it doesn't sit up on the head like many wide headbands do," Lindley explains. The company also offers colorful elastic hair ties. Retail is $5 for the one-inch headband; $4.50 for the skinny; $6.50 for wide; and $3.50 for a five-pack of hair ties.
The minimum order is 21 headbands or 30 hair ties, and the reorder minimum is 15 headbands or 21 hair ties. Banded offers several pre-pack programs that include free displays and/or headbands. The firm also has a new, tall wooden flat wall display that is free with a $1,200 order, and shipping is free. As part of its business philosophy, Banded works with Amazima Ministries International in Uganda. To date through Banded sales, the firm has donated enough money to pay for 500,000 meals, which is a full feeding program for 1,200 kids each day.
Pink camo sunglasses & bead bracelets
FTH Wholesale has added several hot new items recently, including beautiful beaded bracelets, fashion lanyards, pink camo sunglasses and infinity scarves. The company produces an extensive line of jewelry and other accessories, and is licensed to produce merchandise with logos for 165 colleges and 3,000 high schools. The European style sliding bead bracelets are available with 165 college logos, as well as thousands of high school teams. They come in popular spring and summer colors, including royal blue, Kelly green, bright and deep red, lemon yellow and vivid orange. The fashion lanyard badge holder is 33 inches long, and has a breakaway clasp for safety purposes. Crystals surround a team logo above the clip. Pink camo sunglasses are available plain or with team logos, and the infinity scarves come in all the team colors, as well as several fashion colors. "We introduced these items at several recent trade shows, and they were all big hits," reports Gary Cawood, CEO and president. Each product wholesales for $5.90, and retail is around $15.
"On The Button" customizable jewelry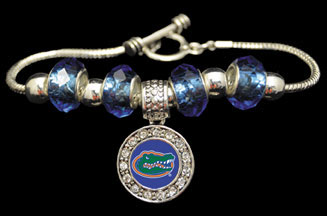 Another highlight for FTH is its new division of customizable jewelry called "On The Button," which is launching this spring. The line comprises college logo and fashion charms, or buttons that snap onto necklaces and bracelets. The fashion charms feature animals, occupations, sports, sea life, crosses and more. "We are the only company selling this style of jewelry in college themes, and our products are at a much lower price point than anyone else offers," Cawood reveals. Bracelets and necklaces are designed to hold one, three or five charms, and shoppers choose the charms at the point of sale. The necklace is brass and the charms are pewter; both are sterling plated and e-coated so they will not tarnish. "The quality is excellent. We showed samples to several of our biggest customers and they are extremely excited about the launch. We will have a great starter kit, too," Cawood adds. FTH will be exhibiting its products, including samples of the new "On The Button" line, at the ASDLV show at booth C1982. Customers who write orders at ASDLV will receive a 20 percent discount, not only at the show, but also for life.
Daisy flower collection
The daisy flower collection is part of Lee Mode International's Neu line, and is very popular for spring and summer, according to Sean Jeong, marketing manager. "In the daisy design, we have everything from statement necklaces to delicate pendants, and matching earrings and rings. Gold and silver jewelry are still strong sellers for spring, and nautical themed pieces are big, too. A hot new color is a toned down shade of red."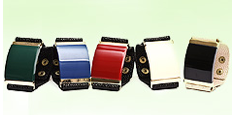 Lee Mode International designs and manufactures a broad range of fashion jewelry. "We have created five brands, each with its own niche, so we are a one-stop-shop for the jewelry wholesale market and chain stores," Jeong says. The company's five brands are: Neu, a line of the most trendy items; Pure, which offers hand crafted metal jewelry in sleek lines and bold textures; Noblesse, a selection of luxurious pieces; Crux, with Western frontier inspired designs from chunky metal to crosses; and Zen, an assortment of bracelets which double as hair bands. "Our Zen pieces are very hot sellers," Jeong points out. Lee Mode has an in-house design team and introduces new styles every week. The company also performs custom work for clients. "We specialize in serving chain stores. We have strict quality control standards, and we ensure on-time delivery." To learn more about Lee Mode International, retailers are invited to request a catalog, visit its New York City showroom, or stop by booth C2868 at ASDLV.
Today's eye-catching, must-have accessories, from floral crowns to quarter socks, adorn customers from head to toe. Always popular sellers in a variety of retail environments, fashion accessories are easy add-on items and impulse buys, and offer retailers big profits.
Monster Trendz Inc.
Toll Free: 866-365-6425
Tel.: 603-617-2845
Website: www.monstertrendz.com
Alabama Wholesale Socks Inc.
158 Industrial Dr.
Sylvania, AL 35988
Toll Free: 866-61 SOCKS (76257)
Tel.: 256-845-4411
Website: www.sockswholesale.com
Banded c/o Lightbulb Innovation Group, LLC
264 Mallory Station Road, Suite 5
Franklin, TN 37064
Tel.: 615-628-8159
Website: www.bandedwholesale.com, www.banded2gether.com
FTH Wholesale
2374 West New Orleans St.
Broken Arrow, OK 74011
Tel.: 888-708-1090 or 918-369-0622
Website: www.shopfthenterprises.com
Lee Mode International
Showroom
1261 Broadway, Suite 307
New York, NY 10001
Tel.: 201-336-9666
Website: www.leemode.com