With 2017 in full swing, we already have a feel for what new consumer trends are emerging, which ones are enduring from last year, and what has fizzled out. Continuous digital innovations, busy lifestyles, and a stressful political climate have led consumers to search out products that add convenience and comfort, help them make the most of the summer season, and allow them to easily prioritize health and self-care. At Independent Retailer, we've outlined four major trend categories and promising products within each one that can easily be incorporated into any savvy retailer's inventory. Check out this list and see what fits for your store.
Outdoor: Make the Most of Summer
As we approach Summer 2017, it is no secret that shoppers will be heading outdoors to hit the beach, throw a barbecue, go for a hike, and enjoy pretty much every outdoor activity imaginable. They'll also be looking for tools and gadgets to make the most of their summer activities. We've gathered together some of the newest and most popular outdoor products shoppers will be eyeing for purchase.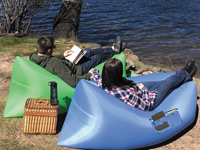 The Hangout™
This outdoor lounger has taken social media by storm over the past two years and surged in popularity with the outdoor crowd. It's easily inflatable with a unique "air scooping" technology. They are constructed with lightweight yet durable nylon and fold down into a small package for easy transport by hikers, day-trippers and beach-goers. Each lounger comfortably fits one or two people lying down, hammock-style, or will also fit several people sitting side by side as you would on a sofa. The Hangout™ is convenient for beach days, picnics, relaxing by a lake or river, camping, and more. Perfect for gift and souvenir shops, beach-side convenience stores, camp ground stores, or sporting goods retailers.
The Hangout™
Morgan Imports
Tel.: 951-656-0207, 281-394-0990
www.TheChillingSpot.com
---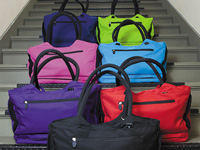 CoolBag
CoolBag LLC was founded in 2013, out of a need for a secure recreational tote bag. When having fun at the beach, lounging at the pool, out in the woods camping, or doing any number of outdoor activities, it's common to leave your bag behind at your chair or towel. However, this can leave you and your bag's contents vulnerable to theft. And — there's no faster way to ruin a day of outdoor summer fun than having your bag, wallet, or valuables stolen. CoolBag is a patented design that keeps your stuff safe and your mind at ease. The bag has handles that can lock around a chair, fence or any other sturdy object to keep the bag from being stolen. The material is a durable cut and rip-resistant canvas. The zipper also locks closed with a built-in combination lock. Consumers can register their lock on the CoolBag website for easy recovery if they forget the combination. The inside of the bag is thoughtfully designed with lots of pockets and a hidden insulated cooler for stashing beverages. It can be carried as a tote bag or backpack and comes in six bright colors. CoolBag helps consumers "Stay Cool in Life™" and have fun in the sun without worrying about theft.
CoolBag LLC
Tel.: 844-926-6522
www.CoolBag.com
---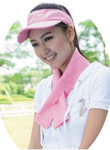 Chilling Towels
Chilling Towels instantly become cold when placed in water and stay that way without dripping or making puddles. The uniquely absorbent towel is ideal for active people playing sports, attending festivals and outdoor concerts, watching outdoor sporting events, doing yard work, or any activity where there is a risk of overheating. Chilling Towels come in a standard body towel and a wrap-around neck towel. The towels come in several different colors and are packaged in individual tubes for easy display for you, and easy storage and transport for shoppers. The material is antimicrobial so even though it stays damp for hours, there is no risk of mold, mildew, or odor. Makes a great impulse buy item, too!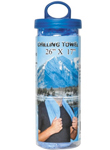 Chilling Towels
Morgan Imports
Tel.: 951-656-0207, 281-394-0990
www.TheChillingSpot.com
---
Tech: Comfort and Convenience
Shoppers are always looking for new and innovative gadgets to improve or simplify day-to-day life. Independent Retailer has gathered some of our favorite tech accessories at affordable price points. Check them out and see if any of these new tech toys make sense for your favorite shoppers.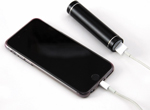 Portable Chargers and Power Banks
People are relying on cell phones more and more, not just for social media connecting and entertainment, but also for navigating everyday life. A cell phone charge hardly ever lasts a full day, and a wall outlet isn't always easily accessible to recharge your device. For people on the go, attending concerts or festivals, or traveling, having a portable cell phone charger is a must. This category has been a top seller on Amazon for a long time and for good reason. Like almost any other cell phone charging accessory, people go back to purchase these products again and again. These items are inexpensive and with a compact display footprint, they can easily fit onto your cash wrap or check out counter as an impulse buy product. They are available through a number of wholesale suppliers on www.WholesaleCentral.com under the Electronics product category.
Wholesale Central
www.WholesaleCentral.com
---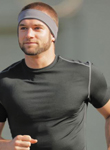 AcousticSheep
AcousticSheep offers comfortable headband speakers for running, sleeping, and watching TV. With this comfortable wearable technology, there are no earbuds sticking in or out of your ears, falling out while exercising, or digging into your ear while trying to sleep. The speakers are embedded in a stretchy material that fits your head like any other headband. Many consumers listen to music or podcasts while falling asleep, or deal with uncomfortable or ill-fitting earbuds while trying to work out. This patented product has been featured on the Today Show®, Dr. Oz®, CNN®, Wall Street Journal, and many other major news networks. AcousticSheep has also won several awards for the design and engineering of their products.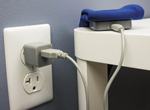 These headphones are a practical and useful addition to any gift, souvenir, tech or general merchandise retailer, and make for a unique wearable tech display.
AcousticSheep
Tel.: 877-838-4790
www.AcousticSheep.com
---
Health: Accessible Self-Care
Health, wellness, and total body care are being prioritized more and more by consumers throughout the Unites States. Of course, physical health and fitness have been a mainstream consumer interest for decades, but more recently, self-care, taking the time to tend to emotional, spiritual and holistic health, has also become very important to mainstream consumers. Here are a few of our top-choice health and self-care products that appeal to a wide range of consumers.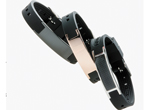 Nanoion
Negative ion technology bracelets are said to help improve your health and quality of life for people of all activity levels. Negative ions occur in nature around things such as waterfalls, beaches with strong waves, and the air after a heavy rain. They are claimed to help accelerate recovery-time from injuries, improve strength in muscles, tendons, and bones, and help neutralize negative effects from environmental hazards such as air and water pollution. Nanoion bracelets use a combination of materials to generate a lot of negative ions including neodymium magnets to help stimulate circulation and relieve muscle pain, far infrared rays to activate cells and enhance metabolism, germanium, immune system enhancer and antioxidant, and tourmaline, which is a natural source of negative ions. The bracelets come in a variety of colors and styles for men and women.
Nanoions
Tel.: 702-272–2666
www.nano-ions.com
---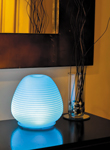 Essential Oil Diffusers
The health and wellness benefits of essential oils are not only powerful but are also quickly gaining mainstream popularity. People are adding essential oil diffusers to different rooms of their homes, offices, and work. The recent surge in demand has led to the development of many personal and portable sized diffusers, as well as ones that can fit into the décor of any home. Many are now filter-less and in some cases even waterless for easy maintenance. For retailers, diffusers are an excellent option not only because of their popularity but their ability to drive add-on sales through purchases and repeat purchases of essential oils and accessories. Wholesaler ZAQ offers a variety of modern designs, oils, and accessories. In addition to regular wholesale, they also offer private label and custom products.
ZAQ
www.ZAQ.com
---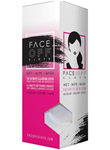 Faceoff Cleansing Cloths
Skincare is an important aspect of health and self-care. Consumers are investing not just in quality skincare, but products that make skincare convenient and easy. FaceOff is a natural, soft, and reusable face cleansing cloth that removes makeup and impurities. In addition to making skincare easy, FaceOff is also free from chemicals, detergents, and fragrance. Because the cloth is reusable, it is also environmentally friendly. It is made out of soft microfiber, so is gentle enough for sensitive and acne-prone skin. The product is a great seller for people to keep in their gym bag, on camping trips, traveling, or for anyone who is environmentally conscious.
FaceOff
Tel.: 888-251–9079
www.FaceOffCloth.com
---
Impulse Buys: 2017 Edition
It's no secret that the counter displays and register items drive a lot of revenue for many brick and mortar retailers. It's important to keep that valuable real estate fresh and up to date. Continuously switching up products helps ensure you attract the attention of regular and new customers alike. Here's a list of new and top-selling impulse buys to keep your checkout counter full, fun and profitable.
InstaSnow
Snow To Go!® Instant Snow is an instant snow powder that sells very well with souvenir, gift, novelty, hobby, magic, and party retailers. Michael Penna, the creator of Instant Snow, says setting up a bowl of fake snow is a great enticement for many shoppers. People love touching and feeling the snow, then taking some home to experiment for themselves. Instant Snow is available in many different packages and styles for different types of retailers.
Snow To Go! ® Instant Snow
Tel.: 866-363-3807
www.InstantSnow.org
---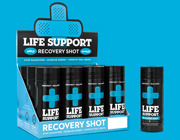 Life Support
Life Support is a healthy recovery shot that entered the market just a few years ago but has already won several awards, including Best New Product from CSP® magazine. It is also sold in more than 6,000 retail locations nationwide. The shot-sized drink contains the active ingredient Hovenia Dulcis, or Japanese raisin tree fruit extract, which is clinically proven to help stop hangover symptoms, increase energy, and improve overall well-being. It comes in a regular and caffeinated option. They sell well anywhere energy or health drinks are sold.
Life Support
Tel.: 888-550–5392
www.LifeSupport.com
---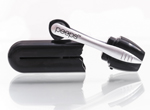 Peeps
Peeps eyeglass cleaners keep eyeglass and sunglasses smudge and oil free. The product is simple to use: first, remove dust with the included brush, then wipe off oils with the carbon pads for a clean lens. It's safe to use on all quality lenses and can be reused over 500 times. The shape of the carbon pad is designed to reach every edge of the eyeglass lens. Peeps come in four different color options and are super portable, fitting right into shoppers' pockets, purse, or glove compartment. We are in the middle of sunglass season and consumers will be looking for accessories to pick up with their new sunglass purchases, in addition to tools to dust off their prescription readers and tinted glasses. Peeps' small size, attractive design, and affordable price point make them an ideal impulse display to set up at your register or next to your existing sunglass display.
Peeps
CarbonKlean
www.CarbonKlean.com