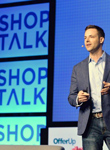 Though only in its second year of operation, Shoptalk is quickly becoming an industry hotspot for retail executives, designers, consultants, startups, analysts and media to gather and discuss innovations, technology, and consumer trends. Their 2017 event held this past March at the Aria in Las Vegas welcomed over 5,500 attendees and hundreds of speakers. Shoptalk organizers describe it as "the next gen commerce event" that serves to "lead the new industry narrative and build the definitive community of innovators." The conference is centered on embracing change and innovation in our evolving retail industry. Independent Retailer has rounded up the five key trends and takeaways from the 2017 show.
Reimagining Brick and Mortar
Although the majority of retail purchases are still made in-store, technology and e-commerce have changed the way shoppers interact with physical stores. The struggle has been figuring out exactly what shoppers want from brick and mortar store locations. At Shoptalk, many brands announced plans to reinvent their store formats. Brian Cornell, CEO of Target® announced plans to remodel 110 stores this year, and 500 more in 2018, with 2019 plans to include more in-store events and hands-on interaction with products. Kohl's® unveiled their plans to build smaller stores for urban environments. West Elm® announced a partnership with hospitality management company DDK®, in which they will debut five new boutique properties. West Elm® will design and furnish the hotels, and guests can purchase that furniture online. David Bell, Wharton School professor, says the future of retail will look more like a Tesla showroom and less like a giant car lot. Overall, many brands are changing their brick and mortar stores to put a greater emphasis on creating immersive experiences and product curating.
A.I. is IN
Artificial intelligence and virtual assistants are making their way into homes across America, and therefore also infiltrating our industry. Many speakers discussed Google's Home, Amazon's Echo, and ways of using this technology to better synthesize and understand large amounts of data. Uri Minkoff, CEO, and co-founder of Rebecca Minkoff® gave a live demonstration on stage of how he uses Alexa to instantly pull up sales data, including the company's top-selling product. A.I. is positioned to not only make shopping decisions easier for consumers but also to make management decisions easier for retailers. Having easy access to sales numbers and performance data can make managing inventory and pricing much more accurate and efficient.
"Consumer-Centric" over "Omni-Channel"
Omni-channel was the industry buzzword of 2016. However, at Shoptalk, the conversations were more about becoming "consumer-centric" and differentiating yourself from other retailers. The idea behind omni-channel is creating a frictionless and seamless experience for consumers, which requires a retailer to be present in all channels at all times. However, as retail expert Steve Dennis says of omni-channel in Forbes, "In trying to be everywhere, many brands have ended up being nowhere" Instead of trying to be "everywhere," Shoptalk attendees and speakers talked about narrowing in on habits, needs, and wants specific to your shoppers. Dennis continues, "Customers care about experiences, about solutions, and about shopping with ease and simplicity." Not about channels.
Defining Intangibles
In several of the panels, consumers and retail startups agreed: It is clear there is demand for transparency in retail. However, what's unclear is what exactly transparency means. Does transparency mean free from false claims or advertising? Does it mean shoppers know exactly where goods are from and how they are being made? Where is the line and how do we define it?
Shoptalk presenters also discussed the widespread demand for sustainability in retail. However, unlike "Fair Trade" or "Certified Organic," there is no benchmark or widespread third party certification to regulate what qualifies as sustainable.
Dynamic Delivery
Over the years, Amazon Prime's two-day shipping redefined consumer expectations on shipping costs and speed. Presenters at Shoptalk hinted that retailers are not ready to comply with the Amazon format, and consumers crave more options. Everything from buy online, pick up in-store (BOPIS), three-day shipping, two-hour shipping, drone delivery, and robot delivery are all options being explored or tested by retailers nationwide. UPS recently announced the rollout of Saturday deliveries. Amazon offers Prime Now in major cities with free delivery of thousands of items in less than two hours. EBay announced starting this year it will offer guaranteed 3-day shipping on 20 million items, and shoppers will be able to filter down by one and two-day shipping times. Essentially, there is no one-size-fits-all best practice for shipping and delivery. As an industry, we are just starting to scratch the surface of options.
Shoptalk is held annually in the United States and Europe. The next U.S. Shoptalk will be held March 18 – 21, 2018 at the Venetian in Las Vegas. Tickets are currently 50 percent off for a limited time. To learn more about Shoptalk, visit www.shoptalk.com.