The CBD market is quite literally booming, with sales expected to reach nearly $1.8 billion by 2022. And with over 850 brands of CBD products in the U.S. market to choose from, there's pressure on indie retailers to find the best products for their customers. There's no definitive brand that's better than the rest, but there are those who deserve the spotlight for their creations. Here is Independent Retailer's curated list for December's top trending CBD products:
CBD Synergies Series
This trio of CBD products from Quicksilver Scientific combines CBD with some of the world's most powerful and effective nutraceuticals and botanicals, boosted by proprietary Quicksilver Delivery Systems® family of lipid nanoparticles, which provides greater bioavailability and more immediate uptake for often difficult to absorb supplements such as CBD and curcumin. The trio includes CBD Synergies-AX Calming Formula — Fast-acting, complete relaxation remedy, CBD Synergies-SP Sleep Formula — Comprehensive, natural sleep support, and CBD Synergies-PN Relief Formula, an innovative blend for whole body relief.
Quicksilver Scientific
Tel.: 303-531-0861
Web.: www.quicksilverscientific.com
CBD Muscle Rub
When it comes to pain relief, synthetic pharmaceuticals often do more harm than good with unwanted side effects. Quanta utilizes a patented technology that polarizes CBD, allowing it to be absorbed into the body easily and more effectively. The all-natural formula is safe for all ages, including pregnant women. The muscle rub features CBD combined with 12 other natural ingredients including turmeric, ginger, peppermint, sunflower and lavender oils, beeswax and more.
Quanta
Tel.: 818-659-8052
Web.: quantacbd.com
CBD Cold Brews
Infinite CBD has partnered with Sati Cold Brew to bring delicious CBD Cold Brews to the market. Customers have said the CBD helps with the negative side effects of caffeine, making drinking coffee more enjoyable. Each product is canned and ready to serve with 130 mg of caffeine and 20 mg of CBD. There are currently three delicious flavors to choose from: Spring Blend, Honey Vanilla and Lavender Honey.
Infinite CBD
Tel.: 877-958-7802
Web.: infinitecbd.com
Organic CBD Throat Lozenges
This is the perfect product for all of your customers who are suffering from colds or coughs during the cold winter months. H.O.P.E. Organic honey lemon throat lozenges are made using all natural and organic ingredients. Each piece contains 20mg of CBD and 10 pieces come in each bag.
HOPE CBD Therapeutics
Tel.: 833-223-4673
Web.: www.wholesalecentral.com/hopemf0001
Premium Dog Treats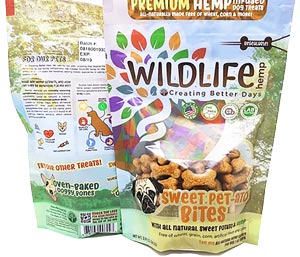 Jam-packed with flavor, CBD dog treats are great for pain and inflammation. These high quality treats are free from wheat, grain, corn and artificial flavors and colors. Each bag contains 60 treats and a total of 150 mg of CBD. They come in two great flavors: Apple and Sweet Potato.
Swanson CBD dba Gen 1:29
Tel.: 615-768-9398
Web.: www.wholesalecentral.com/swanso0001