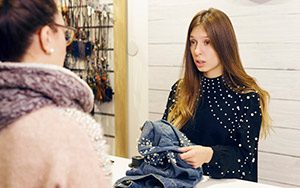 Returns are always the grunt work of the holiday season. It's bad enough that all the excitement is over come January 2nd, but then retail businesses get an influx of customers trying to return their holiday gifts. An Oracle Retail survey conducted by Savanta found that during the upcoming season, 77 percent of consumers surveyed said they plan to return a portion of their gifts, with nearly 20 percent expecting to return more than half of their presents.
This is both a blessing and a curse for retailers planning around the season. While 32 percent of those polled noted they plan to return gifts via mail, 65 percent intend to return them to the store, giving brick-and-mortar retailers another opportunity to engage customers and boost post-holiday sales.
"Retailers need to seize the moment when shoppers return gifts. The traffic generated by holiday returns holds significant opportunity for retailers to build better customer profiles and generate new opportunities for engagement by personalizing the returns experience," says Jeff Warren, Vice President of Retail Solutions Management, Oracle Retail. "Preparing for returns is a best practice, leveraging returns intelligence to inform product development and new customer acquisition strategies is next practice retail."
The Reality of Returns
Generation Z plans to return the most presents this year, according to the survey results from consumers worldwide. This could have a lot to do with the fact that Gen Z consumers are teenagers and still in the growing process, and are incredibly picky with their interests. Family members who may not have their interests down pat may result in giving an unwanted gift that gets returned. Still, this information can be used to your advantage.
Returns are a fact of life for retailers, but only a few have started to reimagine their returns process to improve customer satisfaction. ReadyCloud Suite found that 66 percent of buyers check the return policy before making a purchase. Moreover, 80 percent of shoppers are deterred by inconvenient returns. In the world of Amazon where returns are hassle-free and won't cost the customer time or money to ship it back, retailers need to make returns as easy as possible if they want the business.
In-Store Holds Its Stance
As convenient as free returns are for consumers, it can be very costly to indie retailers who may not have the funds to cover the cost. But here's where you can grab the customer: in-store returns. According to the Savanta study, 75 percent of respondents noted they will shop in-store, compared to 55 percent who said they will shop online. For many, buying in-store is still the preferred way to shop, which means if they return, it will also be in-store and you won't have to cover any shipping costs for returned items.
Oracle noted that when a customer visits a store to make a return, they come with a history and therefore an opportunity for the retailer. Well-informed store associates, with the right technology, are key to identifying the next best offers to save the sale or upsell at the point of service. Having consumer data available to associates along with the availability of inventory and promotions is crucial to keeping the customer satisfied and walking out the door with something.
The Future of Ecommerce Returns
Even though most shoppers are planning to buy in-store this holiday season, retailers still need to be aware of the 55 percent who plan to shop online. There's no avoiding it, so you might as well be prepared.
Shipping preferences are getting more and more complex. Between free shipping and returns, faster shipping availability and no extra fees at checkout, retailers are bending over backwards for their customers in ways that make it increasingly difficult for the smaller business. But there are still some ways you can attract customers, including banning restocking fees and offering free shipping for exchanges. 92 percent of consumers will make a repeat purchase if the returns process is simple, so it's worth the effort.