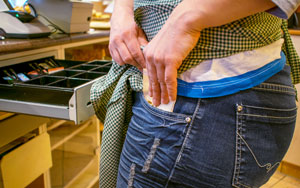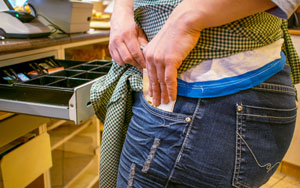 by Sabrina Schnetzer
The retail industry faces many challenges when it comes to hiring and maintaining quality employees. One of the hardest problems to overcome is employee theft. An employee is  5.4 times  more likely to steal from  their  company  than  a  customer  is.  As a result, employee theft alone costs U.S. businesses  $50 billion annually. In the retail industry, over $38 million was recovered from dishonest employee apprehensions in 2018. The average amount stolen by employees was $1,361.37 in 2018.
Even the wisest interviewers can't always see the criminal potential in a job applicant. Fortunately, there are ways to prevent employee theft proactively. One of the best ways to avoid it is by performing background checks to make sure you start with the best employees possible.
Criminal Background Checks
While there is no way to fully protect against employee theft or to prevent first-time offenders, making a smart hiring decision is the best to mitigate your risk. One way to avoid hiring employees with a checkered past is to run a criminal background check.
Knowing the background of your candidate can be the most significant indicator of their ability to work with honesty and integrity. Checking an applicant's criminal and work history for specific incidents that indicate such behavior is the only way to know their true nature.
County criminal history reports should be used as part of the background screening process. These reports contain the most up-to-date and accurate information. A company can be sure that a candidate doesn't have any previous record of misusing company property by conducting criminal background screenings.
Check Character References
Running a criminal background check gives essential information about an applicant's record; however, an excellent way to check the person's work ethic and integrity is by verifying employment and contacting character references. An applicant's professional references can tell you more information about their character than any other type of report. When making a hiring decision, it is essential to know how they acted in their previous employment environment.
You can customize these character questions to answer questions in the hiring process. Use questions like: Was the candidate on time? How would you describe the candidate's work habits? Is the candidate fit for rehire? Applicants with a good resume who interview well can sometimes tempt a hiring manager to overlook crucial details or skip the background check process altogether. These little details can make a difference between an excellent employee and a lousy one, so it's best to always complete a full background check on all potential hires.
Be Consistent
When hiring, make sure you're not waiting until the last minute as that could lead to filling positions with less than exceptional employees and can result in customer loss and employee theft in worst-case scenarios. According to a  NAPBS national survey, 96 percent of employers run background checks on employees, and  only 67 percent of employers surveyed say they screen their part-time employees.  Regardless of the length of employment, be thorough in your employment screening process, and screen all employees.
Use a Third-Party Background Screening Company
Background screening companies can help businesses make smart and knowledgeable hiring decisions. James Boeddeker, President/CEO of SELECTiON.COM®, a national background screening provider, says, "Outsourcing the responsibility of background checks to a professional screening firm is a sound choice. Using a third-party allows the experts to check your potential hire's criminal record accurately. It also saves the company time, so you don't have to call past employers and check references."
Third-party background screening companies are compliant with the Fair Credit Reporting Act (FCRA) regulations and labor laws, and many are NAPBS accredited. A good background check partner should provide all the documents you need to stay compliant.
Ensuring a secure working environment for employees is a huge responsibility. The best step towards meeting this goal and preventing worker theft is by running background checks on all employees, no matter how long their employment will be.  Employers can  protect  their reputation of a safe, secure , work environment if they  have screened qualified employees.
Sabrina Schnetzer is a marketing specialist for SELECTiON.COM®, a nationwide pre-employment background screening company. With a background in journalism and social media marketing, Sabrina specializes in producing informational material for the background screening and human resources industries. To view more of her articles, visit www.selection.com.