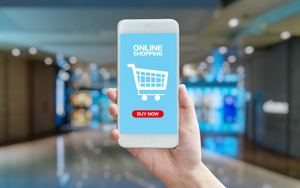 by Meghan Stabler
Anyone can make predictions, but we aren't always so good at going back to see whether those predictions actually came true. There have been a lot of ideas over the years about where ecommerce is heading, so I thought it would be fun to look back at what experts, analysts, and industry influencers predicted would take place over the last decade.
One well-meaning writer noticed that new Twitter handles were popping up with brand names rather than owners. He predicted there would be a backlash from the Twitterverse or Twitter itself would crack down on company accounts because marketing was not its intended use.
By 2017, 75% of Twitter users were following brand accounts, a large percentage of them being retail accounts. Brands and Twitter won't be parting ways any time soon.
Since 2010, mobile commerce has appeared on nearly every prediction list. To be fair, they were all essentially correct: mobile commerce was on the rise in a big way. Where experts misfired was how fast it would rise. No one really expected U.S. mobile shopping purchases to land at a cool $3.4 billion in 2010. Not surprisingly, mcommerce growth still hasn't stopped nine years later.
2011: Everyone will buy through video.
Video has been a frequent flyer on the yearly prediction lists. We've all heard the statistics about video's ability to increase open rates, click-through rates, conversion rates and more. Using video to showcase products increases online shoppers' confidence, but we are all still waiting to see videos with buy buttons and a seamless click-to-purchase process.
One blogger expected 2012 to be the year Black Friday and Cyber Monday started to decrease in importance. In 2017 Cyber Monday sales exceeded $6.5 billion and last year, hit a record $7.9 billion. Not only are they sticking around, but we now have new holidays like Alibaba's Singles Day and Amazon Prime Day, which topped sales for both Black Friday and Cyber Monday this year.
OK, this one was actually spot on, just about five years too early. The prediction was that, after all the steps Amazon had taken to be the world's one-stop shop online, the next logical step would be actual retail stores. A spattering of 2015 bookstore openings aside, Amazon did eventually buy 460 physical stores with its acquisition of Whole Foods in 2017, and opened its technology-forward convenience store, AmazonGo, in 13 locations last year.
2014: Omnichannel is the only channel.
The concept is fantastic and relatively simple: customers get the same experience no matter how they engage with a brand online or offline. Ever since consumers started buying things online, the blending of physical and digital commerce has been a feverishly explored topic. We are further along than five years ago, but we are still pushing to meet consumer expectations for a seamless experience.
2015: Twitter has a false start in social commerce.
The convergence between shopping and social was something most everyone in ecommerce anticipated. Brands were using these platforms to promote products, influencers were sharing their favorites with peers and followers, and online retailers were consistently looking for ways to remove friction from the buying experience.
Twitter was the first to make that bet, making its "buy now" button available to all users in 2015. Less than a year later, the popular social network disbanded the commerce development team and a year after that, "buy now" buttons were a thing of the past. Today, Facebook, Instagram, Pinterest and Snap all have growing social commerce features. If we look at what makes each network different, the most likely explanation for the failure of Twitter's "buy now" is the platform wasn't designed for images, which most consumers want.
2016: "Nano Commerce" will overtake big retailers.
While DTCs are finally having a moment here in 2019, "overtake" is a bit too strong of a word to describe what it is doing to the big retailers. It's also a bold move to coin a term in hopes that an industry grabs hold of it. Personally, I quite like it but, alas, nano-commerce was trademarked to describe trade shows in fields of tiny technologies.
2017-2019: Only time will tell.
More recent years have proven to be a bit more difficult for isolating predictions and determining their validity because the jury is still out on most of them. It's easy to look back 70 years and snicker about Popular Mechanics predicting computers of the future might only weigh 1.5 tons, but the process becomes murky when we are looking at change over the months and years versus decades.
There are several themes that show up repeatedly in discussions about the future of ecommerce, many that we at BigCommerce are making our own bets on for the future:
We're eager to see what merchants will do with the potential provided by headless commerce
We'd love for omnichannel to evolve from conversation to reality
We can't wait to see what these creative DTCs do next to reinvigorate the ways consumers interact with retail
There is a whole world of innovation happening in shipping and logistics.
Meghan Stabler is vice president of global product marketing and communications at BigCommerce.