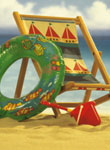 Summer is in full swing. With outdoor furniture, yard supplies, and various seasonal tools and toys spilling from retailers' indoor shelves to curbside display, summer presents both opportunities and challenges for retailers who seek to maximize the sale of seasonal merchandise while minimizing the risk of loss. New research highlights the relationship between effective operating practices and shrink, providing insights for loss prevention professionals who would prevent seasonal offerings from becoming liabilities.
Operating Practices
Challenges faced by retailers when stocking seasonal items are numerous. Seasonal products are often displayed in areas not intended for that purpose. This creates safety concerns such as blocked walkways or slippery surfaces. When these items are stored and displayed outside of the store, security issues arise. Outdoor displays provide opportunities for theft, and alarms, security cables and other protection tools used on merchandise inside the store are often difficult to use with outdoor merchandise like grills, mowers and plants. Amid all the challenges, shrink as a result of theft continues to be at the forefront of issues facing loss prevention professionals. However, there is growing evidence that points to store operating practices, above and beyond theft, as a vital area of focus when addressing shrink.
According to the 2012 National Supermarket Shrink Survey, "2011 research by FMI and The Retail Control Group into the 'causes and cures' of retail supermarket shrink indicates that 64 percent of store shrink is directly caused by a breakdown in or the absence of effective store operating best practices." The remaining 36 percent of store shrink was shown to be the result of "theft and/or misdeeds." This has led to "a growing trend toward collaborative partnerships between Loss/Asset Protection and Store Operations with shared accountability for shrink control."
Operational Shrink
Shrink due to theft, whether through shoplifting, sweethearting (the practice of giving customers unauthorized discounts or free merchandise or services) or theft by employees, will always be a priority for loss prevention teams. However, losses associated with operational shrink in any type of retail operation cannot be overlooked and warrant further investigation.  Retailers may, in fact, want to consider re-allocation of resources to address recurring systemic issues that often occur when the processing of seasonal merchandise calls for deviation from standard operating procedures.
Due to limited space inside stores and the large size of many seasonal items, summer merchandise is often received and displayed outdoors and therefore, may be delivered to and processed in areas other than the receiving dock. This anomaly in the receiving process may result in the inaccurate processing of shipments. Employees trained in receiving merchandise may not be immediately available or even aware of a shipment's arrival, leaving employees who are often unfamiliar with these seasonal items and/or lacking training in their safe and effective handling in charge of the process. This kind of breakdown in operating practices can happen at any time of year, but with seasonal workers and an influx of unfamiliar merchandise, the potential for loss increases in summer.
Employee Training
Having effective operating practices in place for ordering, handling and ringing up merchandise is essential. The key to avoiding a breakdown in those processes is training employees. When it comes to seasonal merchandise, hold special sessions to ensure employees are trained in those areas that have proven to be problematic in the past. Associates assigned to assist customers with seasonal merchandise, for example, may be cross-trained on receiving practices to ensure proper processing when those goods are delivered to the front of the store. Product training may be necessary storewide to ensure items are recognized and rung up correctly at the register, avoiding potential for loss.
Training is imperative to ensure compliance with operating practices, but the benefits don't stop there. The 2011 research conducted by FMI and The Retail Control Group says properly trained employees are the number one deterrent to shoplifting. To further ensure consistency, regular audits should be conducted to confirm processes are followed and access control and video surveillance should be added, where appropriate, to augment a store's ability to monitor the effectiveness of training.
Regular Audits
A leading predictor of shrink, audits can be conducted in every part of the store, including inventory, returns, ordering, and pricing procedures, to ensure compliance with operating practices and to identify trends that signal a potential loss-causing breakdown. A robust auditing solution that can be conducted on a mobile device, such as an iPad, and that allows for dynamic modification of audits to address the day's issues will provide the loss prevention team immediate results upon which they can act.
This capability can be enhanced with an auditing solution that is not only mobile but works with the iPad's camera function to enable the attachment of a photo to an individual audit question. Is merchandise from a particular vendor arriving damaged? Simply take a picture of the damaged items, attach the photo and provide instantaneous feedback that enables a swift response and immediate steps toward remediation. Audits provide loss prevention teams with vital data and a virtual snapshot of store-level activity.
Loss prevention and store operations, together, with a keen focus on operating practices, can have a dramatic impact on loss this summer and well beyond.
Andrew Wren serves as chief executive officer of Wren Solutions, a loss prevention technology provider helping leading retailers reduce loss and increase profits. Wren is responsible for corporate and product strategy, leveraging his more than two decades of security technology expertise. To learn more about Wren Solutions, visit www.wrensolutions.com.