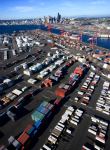 A monthly report by Global Port Tracker shows major U.S. retail container ports should see import cargo volume climb by 11 percent in March, in yet another sign that the U.S. economy is gaining strength. The report, released by the National Retail Federation and consulting firm Hackett Associates, also forecast imports of 7.5 million Twenty-foot Equivalent Units in the first half, up 9 percent from the first half of 2010. One TEU is one 20-foot cargo container or its equivalent.
"These numbers show solid increases over last year and are evidence that our nation's economic recovery is continuing to build momentum," NRF Vice President for Supply Chain and Customs Policy Jonathan Gold said in a statement. "Increases in imports are a clear sign that retailers expect sales to continue to climb in the next several months."
U.S. ports followed by Global Port Tracker handled 1.2 million Twenty-foot Equivalent Units in January, the latest month for which numbers are available. That was up 5 percent from December and up 12 percent from January 2010.