G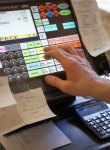 roupon, the largest provider of online daily deals, is talking with cash-register makers about adding features that would make it easier for merchants and consumers to use its coupons, published reports say.  VeriFone Systems, the second-largest manufacturer of electronic-payment systems, is among companies in discussion with Groupon, a person with knowledge of the matter told Bloomberg Businessweek.com. VeriFone would let merchants accept Groupons as easily as debit or credit cards from payments networks such as Visa, said the person, who declined to be identified because the plans were private.
Groupon plans to begin a test with cash registers, company President Rob Solomon told Bloomberg, without giving a timeline. The machines, which may feature Groupon buttons, will reportedly let merchants account more efficiently for Groupon transactions and returns. Easing that process could help the company get more entrenched with small businesses, some of which have had trouble handling an influx of business from Groupon. "We are in an evaluation mode," Solomon said. "Test and learn is the best way to do this."
The move makes good business sense, as the U.S. daily-deals market is expected to grow to $3.93 billion in 2015, from $873 million last year, according to a projection from BIA/Kelsey. Under the most favorable conditions, sales could reach as much as $6.1 billion, the Chantilly, VA-based consulting firm said.