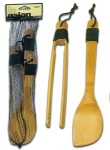 For independent retailers looking to add kitchen and cookware to their lineup, a good place to start is Michigan based, Quality Export LLC. According to manager and owner, Rafi Kashat, the company carries a wide offering of the most wanted items that are fast sellers in any retail environment. "We carry between 250 and 300 different items for the kitchen," Kashat says. "We sell to retailers small and large, as well as supermarkets, other wholesalers and jobbers." Quality Export has its roots in groceries, having come from that business back in 1986, but then Kashat and his partners came up with the idea of focusing instead on wholesaling just kitchen products and cleaning supplies, getting their start by buying closeout deals. It turned out to be a smart move.
"Right now our best seller is not just one item, but the category of cookware overall," Kashat says. "Bakeware is our big seller, but we do equally well in other kitchen items and cleaning supplies, too," he notes. The company carries a wide line of different, quality items, but one point is consistent. "We have the best prices," Kashat says. "We get our products from manufacturers and other vendors, and we also buy a lot of closeout deals. So we can pass those savings right on to our customers," he adds. Among the kitchenware brand names Quality Export carries are Nordicware, Rubbermaid, Corningware, Baker's Secret, Tramontina and others. Because of the company's extensive lineup of products, Kashat assures buyers that they'll enjoy a healthy profit on any of his goods. "Most of our retailers get a 50 or 60 percent markup, and some even more," he says. "It all depends on what they retail the items for."
Quality Export has equally competitive prices on its glassware as well. "We carry many of the top brands," Kashat says, "including Anchor Hocking, Pyrex and Corelle." Quality Export's glasses are available either by the pallet load or the case, and depending on the size of the product ordered, the glassware can come six or eight in a case. "We have many varieties, including stemware, tumblers, smooth tea glasses and classic cooler glasses, among others," he notes. For those with a higher end clientele, Quality carries fluted stemware, including both Champagne and wine glasses, as well as cappuccino and tall-boy pilsner glasses. "We supply inns and restaurants, as well as retail outlets," Kashat notes.
For those in need of storage pieces, Quality has a variety of different shaped and sized glass jars with lids, all at low prices. For example, the company has 18 oz. Anchor Hocking Georgian Jars with lids that wholesale for $2.25 apiece for one to nine cases. The MSRP is $2.99, and Kashat has seen them at other retail outlets selling for as much as $4.99 apiece. Quality Export also features equally impressive prices on Anchor Hocking glass serving bowls.
The company also has what it calls, "Hot Deals," this month featuring Pyrex brand glass measuring cups. For example, a two-cup size wholesales for $4.75 for a one to nine case lot, and the MSRP is $7.99 each, with the high end going up to $9.79 apiece at retail. Knives are always a big hit with customers, and Quality Export carries a number of well known brand names, including Ekco, Hampton Forge, Tramontina and Mainstays. A Tramontina carving knife, for example, is only $3.12 when bought in one to nine case lots, sells for $4.99 at retail, and has been seen priced as high as $7.49, a more than 100 percent markup.
Quality Export is as strong in its line of cleaning and household supplies as with kitchen and cookware, Kashat notes. "We carry all the top brands at heavily discounted prices, assuring our customers a healthy return," he says. For example, a display pack of 3M's Ocelo sponges is listed in Quality Export's catalog at $1.60 per unit for one to nine cases of 12 four packs ($19.20), or only $1.50 per unit for 10 or more cases ($18). Yet the MSRP is two for $5, and Kashat has seen them in the market selling for as much as $3.69 per pack. That translates into a potential profit of $26.28 per case. "Our other cleaning products and home supplies are equally competitively priced," he says.
Quality Export also features what it calls, "In and Out Deals," which are specials available for one time only. The product line varies, but Kashat says he has something new every month when he updates his catalog online. "Right now I have some Mr. Clean overstocks," he says, "but once it's gone, it's gone." Quality export buys what it can from manufacturers when the deals become available. "Some products we have right now that no one else in the country has," he says. For example, Quality recently had a huge shipment of J.A.N.E brand cosmetics come in as part of a one-time deal. "It includes eyeliner, eye shadow, lip gloss, lipstick and more," Kashat says. "We're wholesaling it out at 60 cents a unit in case lots, or only 50 cents a unit for buyers who take ten cases or more. The MSRP is 99 cents, but we've seen some of the product sell in other retail outlets for as much as $4.94 each. A smart retailer can turn a fast profit, but once it's gone, it's gone."
Best of all, there is no minimum order size. "Most companies require a minimum order, but not us," Kashat says. "I give customers my price for whatever they want to order, and they pay for the shipping. It's worked out well for us and them," he says. Kashat adds that most orders ship on the day they're received, or the next day at the latest. "We're known for our good customer service and fast turnaround," he says proudly. Always on the lookout for business to help his company expand, Kashat is quick to offer new customers special pricing, depending on the quantity of goods ordered. "I give them the regular price when they place their order," he says. "Then, if they up the order to a higher quantity, I'm able to offer them a special price. I'm always willing to work with anyone."
For More Information:
Quality Export LLC
23890 Freeway Park Drive
Farmington Hills, MI 48335
Tel.: 248-660-3831
Website: www.qualityexportllc.com