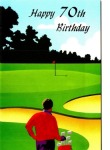 Retailers selling to gift buyers for all occasions should get to know the lineup from Popular Greetings, a Maryland based greeting card wholesaler in business for more than 30 years. "My dad, Rich Deverall, and his business partner, Lou Carletti, had been at American Greetings, and decided to start their own business in 1979 out of Lou's one-car garage," says Nikki King, now VP of the company. "The business took off from there, and we now have our own 40,000 square foot warehouse."
The company has an extensive line of greeting cards and other gift items at very attractive price points. "We actually have several product lines," King says, "including the cards plus Nikki's Balloons, a spin-off line we started several years ago. They're both doing great." Popular Greetings offers its "Value Line" brand of cards that wholesale for only 25 cents each, as well as its "Presidential Line," which features touches of glitter and some embossing. Those cards wholesale for 50 cents each, and retail for $1 or $2 a card. Selling to a few small chains, the company prefers to deal directly with mom and pops and other independent retailers. "Our minimum order is only $100, but for a $300 order we'll also include the freight," King says.
The company has a number of POP and display items available as well, including window posters, card flags, and captions to describe each card section. "We'll also loan retailers display racks with a minimum order," King adds. Popular Greetings recently added a line of gift bags to its inventory, and now has more than 200 designs and styles available.
"One of our best features is that customers can see all our cards right online, and even read the verses before ordering," King says. "This way they know exactly what they'll be getting."
For More Information:
Popular Greetings
505 Blue Ball Road, Building 140A
Elkton, MD 21921
Tel.: 410-398-5337
Toll Free: 800-505-5514
Websites: www.populargreetings.com
www.nikkisballoons.com