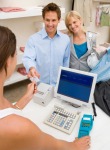 Sales at U.S. retailers rose in December for a sixth consecutive month, topping off the biggest one-year gain in retail sales in more than ten years, the Commerce Department reports. Spending jumped 0.6 percent last month after climbing 0.8 percent in November, Commerce figures showed.
Analysts this month boosted 2011 forecasts for household spending, which accounts for 70 percent of the economy, as tax cuts and an improving job market put more money in Americans' pockets, Bloomberg.com reports. Consumers are "feeling that the worst is definitely behind them," David Semmens, a U.S. economist at New York's Standard Chartered Bank, told Bloomberg.
Eight of 13 major categories showed increases last month, led by a 2.6 percent jump at non-store retailers, which include Internet sales, the biggest advance in more than two years.
The complete story can be accessed HERE.