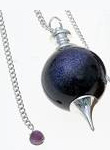 Sassia Hollenberg launched Universe of Energies Distribution, Inc., in 2006, to provide retailers with unique gifts and jewelry items, many of which are of a metaphysical or Feng Shui nature. The wholesaler's 2,500 piece line includes bags & pouches, angels and angelic products, books, candles & holders, dream/spirit catchers, crystal merchandise, gemstone products, ingots, Himalayan salt lamps, figurines, massage, spa & health, jewelry and more. Its Feng Shui line includes money frogs, Ganesh, Kuan Yin, Buddha, Chinese traditional knots, lucky charms and money cats, and it sells gemstone jewelry, Herkimer diamonds, Reiki jewelry, chakra jewelry, Shiva Lingam, Goddess pendants, crosses, hearts and malas. Having grown up in Germany, where alternative healing was popular, Hollenberg is a Feng Shui practitioner who says she is dedicated to helping storeowners acquire these types of products at reasonable prices.
"Currently, we are selling a lot of pendulums," Hollenberg shares. "They are used to find problems or for healing work." Pendulums vary in size, shape and stone, and are handmade. For the holidays, crystal diamonds are popular, she notes. "They are beautiful and sparkly, and retailers use them for their displays. Consumers like them for Zen gardens, kitchens and bathrooms." The company's aromatherapy products, Himalayan salt lamps and jewelry are also very popular for the holiday season, Hollenberg adds.
Wholesale prices are posted on the company's website, and retail markup ranges from two to five times wholesale price. "Pendulums wholesale for $1.50 and retail for $10," Hollenberg reveals. "Crystal globes wholesale for $1.50 and I have some customers selling them for $15." Universe of Energies Distribution offers super bulk pricing, well below wholesale, for large quantities in several categories.
In addition, the company offers Feng Shui consultation, starting at $55. The consultation includes a review of a retailer's floor plan and a 30-minute consultation by phone on ways to improve the flow of Chi and balance the energy, as well as other suggestions for improvements. "The flow in the store needs to be open. Storeowners need to be sure they don't block areas of the stores," Hollenberg points out. "Clutter in the store or store window can be a problem and light is an issue in a lot of stores. Light sources should be used to enhance the areas and light up dark areas. Those are things you often seen in smaller stores."
For more information:
Universe of Energies Distribution, Inc.
P.O. Box 12999
Casa Grande, AZ 85130
Tel.: 480-250-1585
Website: www.universeofenergies.com