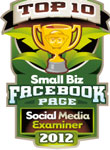 Online and brick and mortar retailers know the benefits of having a big presence on social media such as Facebook. But, for some, the question remains, "How?" One place to start is with the winners of Social Media Examiner's Top 10 Small Business Facebook Pages 2012 contest. By perusing these pages that use promotions creatively, inspire reader involvement and engage visitors, retailers can spark some creativity of their own.
#1. How to Market Your Horse Business is an award-winning social media marketing company focused on horse businesses and other small businesses with 6,628 fans. Contest judges say the page offers amazing engagement, good use of pinning and highlighting, effective use of contests and spotlighting contest entrants, good visual branding with apps and cover photo, a variety of contest and that every post is answered.
#2. Recruit Military is a military-to-civilian recruiting firm, helping veterans and transitioning military service members and military spouses find civilian jobs, buy businesses and improve their education with 42,022 fans. Judges say they like the use of images and quotes, they way the organization uses Facebook events for their job fairs, and the excellent combination of posts on military facts, pictures and resources.
#3. Talking Finger is a social media marketing company with 3,289 fans. Judges say the page offers great fan engagement, nice use of apps, a good combination of fun and valuable posts and superb visual branding.
#4. Earthegy is a retailer of ancient gems and modern jewelry with 10,169 fans. Judges like the use of shopping page, fan engagement, discount promotion and rewards app. The site is loaded with recommendations, another plus.
#5. The Chicken Chick at Egg Carton Labels by ADozenGirlz is a retailer of chicken egg carton labels and other chicken-related products with 14,376 fans. Judges say the blog app is very well done. They also cite fantastic engagement, a good use of contests and a good variety of posts demonstrating fun, chicken care, chicken crafts and personality. It's a great niche site with many tips and images.
#6. PoolSupplyWorld is an online retailer of parts and products for swimming pools and spas with 53,112 fans. Judges like the timeline cover photo, the coupon toption and underwater camera giveaway. The page has a good call to action to spark engagement.
#7. Social Media Branding with Kim Garst is a social media marketing business with 23,001 fans. According to Social Media Examiner, the page offers a good use of photos, engaging posts with good business motivation and excellent visual branding.
#8. Legendary Whitetails is a family-owned business selling unique casual apparel, gifts and gear for whitetail hunters through their catalog and website with 677,079 fans. Judges like the cover photo, use of apps and photos, and the page's $10 Bucks. The page gets lots of shares because they ask for them.
#9. Dog Pack Snacks is a producer and retailer for human-grade dog treats with 1,732 fans. Judges like the use of photos, the dog biscuit app, the nice-looking storefront and email opt-in, and the variety of post.
$10. Chocolate for Breakfast is the business page for Sue Ann Gleason, a culinary nutritionist and marketing strategist with 9,858 fans. Judges say the page offers outstanding engagement with more than 60 percent "Talking About This," a good use of photos, an opt-in app, and entertaining, educational and inspiring posts.
The takeaway for retailers is that, to maintain a vibrant Facebook page that fans come back to again and again, they need a thoughtful mix of powerful images, apps, fun and educational posts, and promotions. Check out these exciting Facebook pages for yourself and start building your social media following today.