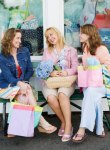 Consumer spending in the U.S. rose more than forecast in February as incomes climbed, helping to bolster the expansion in the world's largest economy. Purchases increased 0.7 percent, the most since October, after advancing 0.3 percent the prior month, Commerce Department figures show.
The U.S. added jobs for the sixth consecutive month in February and the unemployment rate fell to the lowest level since April 2009, helping cushion Americans from higher food and fuel prices, Bloomberg.com reports. Spending is contributing to the recovery, which is on a "firmer footing," Fed policy makers say. "The picture for consumers is that they're spending at a moderate pace," said Julia Coronado, chief economist for North America at BNP Paribas in New York, who correctly forecast the gain in sales. "We are on a decent pace of expansion."
It was also reported the economy ended 2010 on a stronger note than previously anticipated. Gross domestic product grew at a 3.1 percent annual rate in the fourth quarter, revised up from a 2.8 percent estimate issued last month, Commerce Department figures show. Consumer purchases rose at a 4 percent pace, the most since the same three months in 2006.
The full report in detail begins HERE.