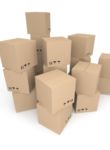 As part of its ongoing review to enhance security, United Parcel Service (UPS) has announced it is expanding its policy to require customers who ship packages from retail shipping locations to present a government-issued photo ID for verification of identification, BusinessWire reports. The directive will apply at UPS Store and Mail Boxes Etc. locations as well as authorized shipping outlets worldwide.
"The safety and security of our customers, business partners and employees is our highest priority and UPS will continue to implement additional security precautions as necessary," the company said in a statement.
Consumers who tender a shipment through any retail access location and do not already have a pre-printed shipping label attached will have to present a government-issued photo ID or they will not be allowed to use UPS services.